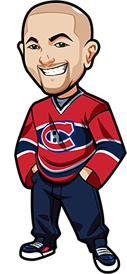 Written by Graeme on Sunday, March 31st, 2013
Follow @BetNHL
Happy Easter Everyone! We won again yesterday which was awesome. Completely killed the Grand Salami bet too – the line was 59.5, we went with the under and there were just 47 goals yesterday! An incredibly quiet night of hockey where goals are concerned. The Penguins also did the business, with a nice tidy win over the Islanders.
That was a great win by the Penguins, considering who they were missing – both at the beginning of the game and the end of the game!
Although poor Crosby – see the hit yesterday? You can even see his teeth fly out:
That's one person who won't be munching down on chocolate easter eggs this morning!
Ouch.
5 games on the board tonight. One thing that is interesting is all 5 of the road teams are the teams with the most points, so the home teams tonight will have a lot of ground to make up.
And I have to be honest – today I have a bad feeling about the tips. Usually I can tip full of confidence. Maybe it's just because we've been on such an awesome run and I know variance is due to give us a beating sooner or later – but I've been working on these for a few hours now, and it's been hard to pull the trigger with a lot of second-guessing.
So basically – bet half of what you usually would, is what I would recommend. Play it safe.
Blackhawks vs Red Wings Betting Tips: Blackhawks To Win
On Friday I tipped the Ducks to pull off the shock victory over the Blackhawks on the road, and they managed to do just that. Today I'm going to turn it around, and tip the Chicago Blackhawks to defeat the Detroit Red Wings.
These two teams have played twice already this season. Both times it was tight games – Blackhawks won in overtime, and in a shootout. These are always extremely tight games, but both times the Blackhawks squeaked out the win and I think they're going to do it again here. I mean in the last game the Red Wings had a powerplay for practically half of the 2nd period yet couldn't capitalize.
I like the Blackhawks to squeeze out the win here. Every game for Detroit is important at the moment, while the Blackhawks don't have the pressure of being at home, nor all eyes watching them as the Penguins are eating up the headlines at the moment. You can get 1.87 odds at Bodog.
Stars vs Kings Betting Tips: Kings To Win
These two teams have matched up twice already this season. Both times in LA, and Dallas have came out on top both times with a 5-2 victory and a 2-0 victory. I watched both of those games live, and while Dallas won both games the Kings were extremely unlucky. It was mostly silly defensive mistakes that cost them, and LA outshot Dallas both times. Actually in the 2-0 victory where both goals came in the 3rd period, LA had a whopping 40 shots on goal compared to the Stars 21.
I like LA here. Dallas have been conceding a lot of goals recently. Their previous two wins against LA are what I would call "defensive victories" – but I just can't see the defense doing the business at the moment. I'd almost go as far as to tip the Kings -1.5 here except Jagr can be a mean SOB when on a hot streak. So I'm sticking with LA Kings to win – 1.83 at Bodog.
Capitals vs Flyers Betting Tips: Capitals To Win
This is one of those bets where the betting odds dictate we need to bet – the Capitals are a huge 2.10 odds to win at Bodog.
Washington have been on a great run lately, and Ovechkin has been killing it. Flyers have been poor lately – and even some of their wins you cant' give them full credit for as it's mostly been due to their power play unit.
Washington have picked up some big and important wins in their last few games – they're winning when it matters, and this is another game where they need to do that. If they win, they'll hit .500 – something they're yet to do this season.
Follow @BetNHL
BetNHL.ca » Tonights Tips »