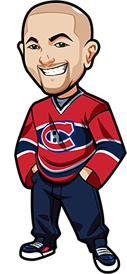 Written by Graeme on Saturday, March 31st, 2018
Follow @BetNHL
It was another winning night yesterday as our lone tip of the Rangers/Lightning game over 6 came through in the 3rd period.
That game just exploded with goals which was nice to see. I was worried after that 1st period that Tampa might not be motivated after all – good to see they were.
It was all about the West yesterday in regard to playoff action and the Avs got a much needed win over the Blackhawks. I stayed away from that one as after the previous few games I was worried the Avs would be demoralized. Was nice to see them come out and dominate like that.
The wild card in the West is very tight at the moment and hopefully it goes down to the wire.
It's a busy day today with 12 games on the board. This'll actually be the last time you see my ugly mug on the tips until the playoffs begin. Scott takes over tomorrow for a few days as per usual, and then I'm off to New Orleans for Wrestlemania weekend and by the time that's done, the regular season will be over with.
Let's end it on a winning note. FYI I just can't advise the Panthers today but you can bet your ass I'll be betting them and cheering them on.
Today is a real tricky day. There's bets that I'll make myself but I can't actually advise them. Those are:
Panthers to win:Third times the charm right? They've proven they should be in the playoffs over the past couple of months. This is a tough tough game for them and really if they lose they're out. I'm fine with backing them one last time.
Red Wings/Senators Over: I'd actually did a write-up for this one then deleted it as I just can't advise it. It's just a risky play with two teams like this at this spot of the season as they can just phone it in. In saying that I think Mantha ending his drought will have him motivated and the Sens have some bright prospects in offense.
Islanders vs Devils Betting Tips:
Devils have upped their performance the last few games as they continue their playoff push.
I'm a bit concerned about how the earlier Panthers result affects things. They're doing well with the pressure on them but if the Panthers lose? They might relax a little bit.
In saying that they've performed well against some tough opposition lately and I'd like to think they want to come out here and steamroll the Islanders regardless. Islanders have their own issues with injuries on top of it and while we can see games like the Leafs or Sens games where they can bang them in, if the Devils perform as they have been they should be able to handle them. Devils have also did a good job at shutting their offense down 2 out of the 3 games this season.
1u on Devils in Regulation
Canada: 1.71 Odds at Sports Interaction + $20 Free Money Line Bet.
USA: Bet at Bovada.
Everyone Else: 1.68 Odds at Bet365 (Americans: We recommend http://www.bovada.lv.
(Odds correct as of 2018/03/31 11:31:29 AM EST but are subject to change.)
Leafs vs Jets Betting Tips:
Both teams strong offensively and both leaking goals. Had a few high scoring games already this season and I like a stronger effort from the Jets tonight after that Hawks loss.
As the only two Canadian teams in the playoffs I'd think they both have something to prove and go for this one.
Line is 6.5 which is sucky and of course you never know when they're gonna turn up or not so just a small play.
0.5u on Over 6.5 incl OT
Canada: 1.95 Odds at Bet365 (Americans: We recommend http://www.bovada.lv.
USA: Bet at Bovada.
Everyone Else: 1.95 Odds at Bet365 (Americans: We recommend http://www.bovada.lv.
(Odds correct as of 2018/03/31 11:31:29 AM EST but are subject to change.)
Flames vs Oilers Betting Tips:
We often say that for games like the "Battle of Alberta" we have to throw the form book out the window. In the case of the Calgary Flames we have to hop on a plane, fly over the Atlantic, crack open the window THEN throw the form book into the ocean below.
They've been absolutely abysmal but like I said the other day – that last second goal against the Jackets was so dickish it was great and I'd like to see them continue from that. You'd think on this losing streak they'd hype themselves up.
Honestly there's a lot against this one so I'll just go with a small play on 0.5u on Over 5.5. C'mon Calgary show some pride. Or roll over and get the Oilers to crush ya. I mean hell Oilers could put this one over by themselves if they're motivated.
Canada: 1.92 Odds at BetOnline..
USA: Bet at Bovada.
Everyone Else: 1.92 Odds at BetOnline..
(Odds correct as of 2018/03/31 11:31:29 AM EST but are subject to change.)
Follow @BetNHL
BetNHL.ca » Tonights Tips »