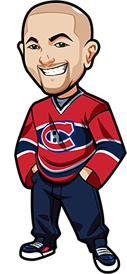 Written by Graeme on Sunday, March 3rd, 2013
Follow @BetNHL
9 games yesterday, and one of them was the real talking point: The Penguins and Habs practically decided to play without goaltenders, putting in a 7-6 classic. What makes it worse? I was going to go to that game! I was planning on going to a Habs games with some buddies in March, and this was one of the possibilities.
However I was there last year for the Penguins game – Crosbys first game back in Canada – so I wanted to go to a game against a different team. I'm a big fan of the New York Rangers, so I wanted to do that one on March 30th instead.
So yeah – I missed out on that. Damnit.
Despite that we had an excellent betting night. We tipped 3 underdogs and 2 of them won, with only the Lightning letting us down after blowing a 2 goal lead. So I can't feel too bad.
A lot more games today – 9 games on the board. Let's get to the March 3rd, 2013 NHL Betting Tips:
Blackhawks vs Red Wings Betting Tips: Blackhawks To Win
This one is all about the lines. Blackhawks are -115 at 5Dimes, -125 at Bodog, and yet just -104 at Pinnacle, a quite fantastic price. Tough game for the Blackhawks? Of course – but they've came through every game in amazing style lately, and those odds make this a must-bet.
Make sure you Bet at Pinnacle – those betting odds are crazy, and a lot better than at Proline or any other place.
Bruins vs Canadiens Betting Tips: Bruins To Win
This is going to be one depleted Canadiens team. To put SIX GOALS past the Pittsburgh Penguins and still come out on the losing side? Then you have to travel on the road to Boston for a game less than 24 hours later? Yikes.
Boston are a physical team who defeated the Habs earlier this season. I sadly can't see anything but a repeat here – and it could get ugly.
Again, the best odds on this one will be at Pinnacle.
Senators vs Islanders Betting Tips: Senators To Win
We're getting some incredible odds here on an Ottawa win. The Islanders are brutal at home right now with a 2-8-1 record so "home advantage" goes out the window. Ottawa haven't been the best on the road, but they'll be coming into this game frustrated and angry after they should've beat the Flyers last night.
Ottawa seem to have their whole team injured, yet they're still able to team up well and really reach deep with their strengths.
The books are really undervaluing the Senators here. I'd have this one at evens, but they're actually giving us +134 odds at Pinnacle on the Senators winning.
If you don't have a Pinnacle Sports account, you're missing out on the best odds possible. Pinnacle, 9 times out of 10, will have better odds than EVERY other sportsbook. Just for fun – take your proline or sport select ticket that you've bet on for today, then register at Pinnacle and put the 3 picks in an accumulator.
To do that:
Go to Hockey/NHL down the left and click OTI or regular time
Click Parlays/Accumulators
Add the 3 teams and compare the odds
Then cry a little after realizing how much money you've missed out on
Have a good day today guys, let's go 3-0.
Follow @BetNHL
BetNHL.ca » Tonights Tips »