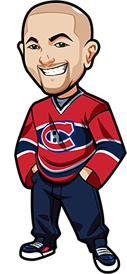 Written by Graeme on Saturday, March 3rd, 2018
Follow @BetNHL
It was a perfect night with the NHL Tips last night, as we went 2-0 with our 1u tips and won our 0.5u tips too.
We had another nice and easy over with the Habs/Islanders game as that one was won before the 2nd period was over. That was a nice one and man do the Islanders have problems at the back – Halak is bad but their D is just non-existent at times.
The Panthers recorded a solid win against the Sabres to make it 5 in a row as they continue their playoff push, and the Hurricanes did what we hoped which was a nice and convincing win in regulation time.
Glad we stayed away from the Knights last night, as the Sens came to play. That's 3 in a row the Knights have lost now.
What a result for the Avs whose form at home is impressive. A 7-1 crushing victory over the Wild. The standings and who can make the playoffs are fascinating at the moment and I expect there's going to be a hell of a lot of heartbreak down the road.
The Flames have to be just sick as they lost out on important points against the Rangers. It just wasn't to be as Lundqvist pulled off 50 saves to get them the W.
I'm putting the OHL etc tips on hold for a little while – possibly even the rest of the season. The Olympics sort of messed things up I felt and seeing the OHL system use about 5 units in the space of a month is slightly concerning. There's also some plays it feels very confident about that have been totally incorrect. I might stop it for the season while we're ahead.
It's Saturday March 3rd, and a nice and light schedule tonight with just 8 games on the board. Even better is we've got games at 1pm, 2pm, 4pm and 5pm EST. I love when they're staggered like that. So the perfect day of watching soccer in the morning, hockey and golf all day long, then at night an easier combo of NBA, NHL and UFC.
Perfect freaking Saturday. Then a couple of hours sleep and up to watch the end of the golf and the Rangers vs Celtic game.
Big props to BetOnline. for some great odds today. I'd written up the Bruins & Pens ones before the odds were out and then when I saw the opening lines, it felt like a waste of breath with 1.55 and 1.58 at the first sportsbooks I saw. Thankfully BetOnline. had the best odds for in regulation to make them plays and if you're not with them….today is the day to sign up!
Let's get to it.
Kings vs Blackhawks Betting Tips:
The Blackhawks can always play the spoiler role and have the ability to surprise, but the Kings should know what to expect from them and have already beaten them twice this season.
Kings are on the back of a couple of solid wins over the Knights and Jackets after that little losing run. They've been surprisingly poor at home this season but I like them to notch a win up here. I was impressed with how they bounced back after that Sharks loss and think they can continue it here.
Kings in Regulation.
Canada: 1.95 Odds at BetOnline..
USA: Bet at Bovada.
Everyone Else: 1.95 Odds at BetOnline..
(Odds correct as of 2018/03/03 10:54:52 AM EST but are subject to change.)
Bruins vs Canadiens Betting Tips:
It's going to be a more difficult game for the Habs tonight as they actually have to play against a goalie.
Bruins have been stuttering a wee bit but their offense is getting figured out now and they're probably raring to go here. After that Pens result, plus this rivalry and a chance at the Presidents Trophy. Habs got beaten up a good bit too last night.
Bruins in Regulation
Canada: 1.69 Odds at BetOnline..
USA: Bet at Bovada.
Everyone Else: 1.69 Odds at BetOnline..
(Odds correct as of 2018/03/03 10:54:52 AM EST but are subject to change.)
Penguins vs Islanders Betting Tips:
I've got to think the Islanders heads will be down after that Habs game. The Pens have lost 3 on the trot and will want to come out hard after that loss to the Bruins.
They're at home where they have been exceptional in recent weeks. A lot of people will be thinking the over tonight but I don't know if the Islanders show up here.
Penguins in Regulation
Canada: 1.67 Odds at BetOnline..
USA: Bet at Bovada.
Everyone Else: 1.67 Odds at BetOnline..
(Odds correct as of 2018/03/03 10:54:52 AM EST but are subject to change.)
Follow @BetNHL
BetNHL.ca » Tonights Tips »