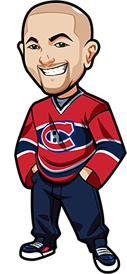 Written by Graeme on Wednesday, March 4th, 2015
Follow @BetNHL
A quiet night in the NHL with only 4 games. However at this stage of the season, practically every game means something.
A big one in Winnipeg with the Senators taking on the Jets. Both teams battling for the wild card spot although the Senators are hurting after that loss last night. It's the night of potential returns as not just Anderson is back apparently; but Zetterberg is in the mix too.
Will the Penguins continue their run of form? They're going against the Avalanche, who look to be playing a line of Caron / Iggy / Duchene which could be cool. And my Habs go up against the Ducks with Montreal just battling to stay motivated.
It's a quiet night – if you're in the USA or Canada, perfect night to give DraftKings: Daily Fantasy Sports a whirl. Go on – you know you've been thinking about it. Make today the day you take that plunge.
Jets vs Senators Betting Tips:
They played last in November. Jets won that in a shootout.
Tight matchup, but I think the Senators are going to be demorailized going into this one, after last nights shootout loss. Jets are going into this one well rested, with their last victory being a 5-2 win over the Kings.
Sens do have something to fight for though – so rather than take Jets in regulation at 1.95 odds, we're going to go with Jets -1. 1.90 odds for that one and it means if they win in OT/Shootout we get a push out of it. I'm fine with sacrificing the 0.05 on that one.
You can do the alternate handicap lines at Bovada for Americans and http://www.Bet365.com for everyone else..
Rangers vs Red Wings Betting Tips:
In a game like this you generally like to look at the underdog. Rangers are 2.10 here which I think is a fair price. Red Wings have struggled a bit in the last month. 5 losses in their last 9 games, and even the 4 wins there were ALL by 1 goal. Granted it's mostly been a tough schedule, but Rangers are part of that tough schedule.
Rangers killed the Preds on Monday, and have had a lot of good victories. I'm a bit wary of their form on the road. Their wins recently have been against much weaker teams or the Battle of New York, and then they lost to the Flyers. Their schedule has been easier too. But the Rangers offense has been on fire all season, and they are just the better team here.
Rangers to win.
Ducks vs Canadiens Betting Tips:
It's one thing to go with a team that's running hot – but it's even better to go with a team that's just clicking. And we're seeing that at the moment with the Ducks. Love the way they're playing at the moment while the Habs continue to be rather inconsistent.
Ducks in regulation at 2.30 odds.
BTW we know we have a lot of European fans out there – if you like the Euroleague, you should check out basketball betting as they have a lot of great basketball betting tips especially when it comes to the Euroleague.
Follow @BetNHL
BetNHL.ca » Tonights Tips »