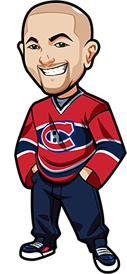 Written by Graeme on Friday, March 4th, 2016
Follow @BetNHL
That was quite the night of hockey last night. A few demolition jobs, some extremely close games and quite a few intense comebacks.
The biggest surprise was the Flyers being shut out by the Oilers. Talbot has been performing well lately and is proving to be quite a pick-up for the Oilers, but the Flyers were also extremely unlucky hitting the post multiple times. The Leafs battled well against the Wild but Minnesota managed to come out top in a tight game. Penguins vs Rangers was dominated by the Pens.
I actually went to bed thinking we had won the Predators bet. Looked all over – was surprised to turn on TSN this morning and hear about the Devils comeback and collapse of the Predators. A big surprise there considering the professionalism the Preds have played their last few games.
Sharks bounced back from a 2-0 loss in the 1st period to win 3-2. Quite the night of hockey.
And from that we go to just 3 games tonight.
Capitals vs Rangers Betting Tips:
These two usually have high scoring games. Been some great battles between the two lately. Capitals are the highest scoring team at home. Rangers are a bit of a disappointment with only a 2.38 goals per game on the road. However Capitals have had a tough time keeping the goals out lately and I like this one to have a good amount of goals in it.
Over 5 Goals.
Canada: 1.74 Odds at Pinnacle Sports.
USA: -137 Odds at Bovada.
Everyone Else: 1.74 Odds at Pinnacle Sports.
On top of that, I would recommend a value bet on Rangers to win. I mean just look at these odds:
Canada: 2.75 Odds at Bet365 (Americans: We recommend http://www.bovada.lv.
That's a hell of a price. I could see as high as 2.40 but that's it.
Oilers vs Blue Jackets Betting Tips:
I'd love to back the Oilers tonight. As I have a soft spot for them I've enjoyed watching them play at the moment.
But I think a large amount of that is down to Talbot and luck at the back. Talbot is out, and I think we've got some solid value on the Jackets.
Jackets in regulation.
Canada: 2.10 Odds at BetOnline..
USA: +110 Odds at BetOnline..
Everyone Else: 2.10 Odds at BetOnline..
Devils vs Stars Betting Tips:
Another nice value bet on the Devils tonight. Stars have their eyes on stumbling into the playoffs and are resting their players. Their defense is leaky at the moment. Don't get me wrong Devils are bloody poor but after last nights game their offense showed they can turn it up when need be, and a bet on the Devils is an +EV bet here.
Devils to win.
Canada: 3.15 Odds at 888 Sports.
USA: +200 Odds at Bovada.
Everyone Else: 3.15 Odds at 888 Sports.
Experimental Betting Systems:
2-0 in the OHL, 0-2 for the High Confidence 1st period system, 1-2 for Medium Confidence last night.
1st Period High Confidence: New York Rangers at 3.80.
Owen Sound -1.5, Over 7 goals in same game. Bet OHL at:
Canadians: Bodog and 888 Sports.
Americans: Bovada.
Everyone Else: 888 Sports.
Weekly Chat with Sports Interaction:
Following the trade deadline, we've sat down with the online sportsbook Sports Interaction to discuss the post-trade part of the season, and how the trades before the deadline affected things from the sportsbooks side of things.
BetNHL.ca: The deadline is done with and we're now looking at the rest of the season with the current teams more or less. How have the futures changed?
Sports Interaction – Canada $20 Money Back Special: The Capitals remain the favourites to win the Stanley Cup no surprise – currently at +425 odds. However the Chicago Blackhawks have moved up to second contender and it's very close at +450 odds. They made a lot of deals with Ladd, Erhoff, Flesischmann and Weise and that's one deep roster.
Those two are the two favourites by far as you have Ducks/Kings at +850 then everyone else is above +1000.
BetNHL.ca: Trades can be an interesting thing. The Ladd change for example – seemed to have an impact that night on the Jets/Blackhawks individual games. The Staal trade no doubt impacted the Hurricanes. What should the betting community take in and think about when it comes to the trade deadline?
Sports Interaction – Canada $20 Money Back Special:. As soon as the final trade is done, people should basically hit "reset" and start afresh when it comes to betting on the games. Because now the landscape has changed and teams are able to look at this point of the season and see where they can end up.
For example the Leafs are taking this time to give a thorough evaluation to all the hot prospects they have and are planning for next season. Others however are looking to make the playoffs and will be going all out to do that.
There's also a big adjustment period for a lot of players no matter what role they play in a team so it can take time to adjust. However we believe that NHL betting before/after the deadline are two completely different animals and people should think like that post-deadline.
BetNHL.ca: Post deadline – who is the team you think people will be betting on?
Sports Interaction – Canada $20 Money Back Special:. The Penguins are a big one. Sure they didn't do much at the deadline but sometimes it's about what you don't do. Crosby is heating up, Malkin is back and Penguins are going to do everything they can to guarantee themselves a playoff spot. Since Mike Sullivan took over they've been a lot better too. And we expect less action on the Coyotes and Hurricanes. They hung around for awhile with their rosters but as the postseason nears they're going to be left behind.
BetNHL.ca: What was the game that gave you the most action this week?
Sports Interaction – Canada $20 Money Back Special: Leafs vs Lightning. Being Canadian we always do a lot of action on the Leafs but this one had pretty much all the money going on Tampa. Islanders vs Oilers was a huge game for us action wise as well.
BetNHL.ca: Thanks as always to Sports Interaction. Canadians if you're looking for an online sportsbook, the best one by far for Canada is Sports Interaction and their $20 Money Back Special:
Follow @BetNHL
BetNHL.ca » Tonights Tips »