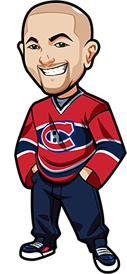 Written by Graeme on Thursday, March 5th, 2020
Follow @BetNHL
A disappointing result last night as the Canucks lost at home to the Coyotes. They teased us with a comeback in the third after being 1-0 down but couldn't hold onto the lead which was very frustrating.
Washington got thumped again as Philly make it 7 in a row. Surprising to see the Capitals perform so badly at this juncture. The Jackets blew a 2-0 lead which was a killer for them, and the Avs run came to an end in OT with the Ducks.
Fun little night of hockey goal and game quality wise at least.
Some real tricky day today. Panthers offense is really hot/cold and even if they are hot will they be able to get past the Bruins? Hard to back the Bruins against a desperate team though.
Not a good time for Tampa right now with the Bruins loss and losing Stamkos. Wonder if they just go to town on the Habs.
Rangers are probably a good bet against the Capitals. Regardless of the loss the other night, I thought the Rangers played well. The Jackets not being able to capitalize will help too. However it's tough to go back to them after their loss and it's always hard to bet against the Capitals. A good spot for them though.
Yeah I'm sorry guys. Not much I am seeing today to back with any sort of confidence despite the quantity of games on the go.
I wanted to back the Minnesota Wild over the San Jose Sharks. However I've spent a long time analyzing it and just don't feel confident.
Wild are doing great right now, but don't forget everything that has gone on with them over the course of the season. They also struggle against the Sharks lately. They lost February 15th 2-0 at home and Sharks have won the last 5 against them.
For the Sharks – yeah they're on a 3 game winning streak but it's easy to write that off. Barely beat the Devils. Beat the Penguins in a slump. Even a team with a zamboni driver in net can beat the Lazy Leafs.
However that will also give them a bit of much needed confidence and with 3 wins on the trot at home I could see them having the desire to keep that going.
The other one on paper I really like is the Hurricanes however they're just very hard to back right now. Lost three in a row. Struggling in the goalie area. Flyers motivated to keep their run going etc.
No tips today unfortunately. If you're backing something let us know in the comments and why. Or if there is a particular game you want me to give thoughts on let me know. In saying that I'm traveling to the States today so not sure I'll be able to respond just in case you don't hear from me.
Should note that the trip/travel isn't the reason for no tips. Got up early at my hotel so I could go through everything and been at it a couple of hours and just every single game has something that is putting me off enough.
Well that got me up early and also a rough sleep from eating too much last night. Man. Came into Toronto yesterday and had a dinner meeting where I was absolutely stuffed and ate too much. However my hotel also gave me a $25 gift certificate for their restaurant that I had to use that night. I didn't want to waste it so after dinner I went there and grabbed a pint and what I thought would be the smallest thing on the menu – a plate of antojitos. However this is a fancy place and these cost $17 and by god do they want you to get your moneys worth – each antojito was like the size of Andre the Giants fist. THEN it was absolutely covered in what seemed like a block of cheese for each one.
I don't like to waste food so I painstakingly ate each one, cursing myself every time. And after all the spicy food I ate last night – man, feel bad for the people on the plane with me this morning!
Have a great day looking to see what you guys come up with betting wise as there's a few I mentioned above I do like so will hopefully back something based off what you guys think.
Follow @BetNHL
BetNHL.ca » Tonights Tips »