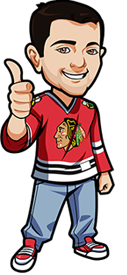 Written by Scott on Tuesday, March 5th, 2013
Follow @BetNHL
Good night of hockey last night. Rick Nash buried two in the Rangers 4-2 win over the Flyers. Carolina continued their strong play of late with a win over the Sabres. The Capitals had a huge come from behind victory over the Bruins. The Lightning managed to win 5-2,without a single point from Stamkos, over the slumping Devils.
And of course there was the Blackhawks game.
They won the game and are now 20-0-3 and for the first time in the 86 year history of the Blackhawks they are on a 10 game winning streak. Even more incredible is that the Hawks have gotten 43 out of a possible 46 points. The Hawks schedule now looks like this over the next 4 games: Home for the Avalanche, Away against the Avalanche, Home for the Oilers then away against the Blue Jackets. These Hawks are on a historic run right now and the schedule is defiantly in their favor for the next 4 games but anything can happen. Oh and it was Marian Hossas 1000 game, so of course he scored.
Well only 4 games on tonight but still plenty of betting options. Lets start off with the always entertaining battle of Ontario when the Ottawa Senators are in Toronto to face the Maple Leafs. The Avalanche are in Chicago to play the Blackhawks, the Sharks play the Flames and the Coyotes are in Anaheim to play the Ducks, yet again. So not many games to watch but still plenty to bet on.And speaking of which lets take a look at the NHL Betting Tips for Wednesday March 6th:
Senators vs Maple Leafs Betting Tips: Over 5 Goals
Each and every time these teams square off its always an entertaining game. This is the 3rd game of the 5 games scheduled between these teams this year with both teams winning on each so far. Although the Sens are really banged up and without a majority of their top players they continue to be competitive.
And the Maple Leafs LOVE it when they get a chance to play against not only their Northeast Division rivals but their Ontario rivals. These games are always great and this one will be no exception.
5 goals should be a breeze for these teams and at 2.05 odds this is a no brainer. So head to BetOnline. at 2.15. The Flames have the ability to surprise teams and tonight may be one of those nights. Plus the Sharks played in Vancouver last night and the Flames had the night off.
Head to BetOnline. and bet on the Flames to win in what promises to be a solid game.
Follow @BetNHL
BetNHL.ca » Tonights Tips »