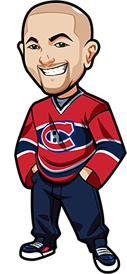 Written by Graeme on Saturday, March 6th, 2021
Follow @BetNHL
Well if you're one of those people that like to bet various parlays involving games going to OT then it was a good night last night with 4 of the 6 games going to OT.
For the record all 4 of those games would pay out at about 268/1. I don't consider parlays +EV but it is a bet I do place at times for fun. Alas I didn't have it on last night.
Tampa lost to the Blackhawks in a shootout in an upset. I liked the Blues yesterday but not enough to take them at the odds and that ended up being a tight one.
How about the Bruins vs Caps and of course good ol Tom Wilson. Pity those two teams don't play today would be an amazing game. It's April before we see them play again.
I took the Wild last night alas just incl OT/SO. Couldn't pull the trigger on the in regulation bet. Wasn't too happy with the way the odds dropped either since my initial post in the morning so glad they won nice and easy.
Let's look into Saturdays big slate. Lot of repeats here.
Canucks vs Leafs:
I figured the Leafs would have a letdown game against the Canucks and that proved to be the case. Can they pick themselves up here? My concern is on the Leafs losses this season they haven't proven to be a trustworthy bounce back team.
It looks like they are blaming fatigue for that loss though and will be rested. Also after all the games against the Oilers they needed to adjust for the Canucks.
We've seen fatigue affect teams before though. Leafs are overall a much better hockey team, rested, out for revenge, and have proven themselves on the road etc. I do have slight concerns about getting the job done in regulation but not enough to put me off it.
Leafs Win In Regulation
Canada: -1.76 Odds at BetOnline.
USA: -130 Odds at BetOnline.
Everyone Else: 1.76 Odds at BetOnline.
Note that BetOnline. are the same guys as BetOnline but hey if you're looking for another deposit bonus it's a good spot.
(Odds correct as of 2021/03/06 9:22:54 AM EST but are subject to change.)
Canadiens vs Jets:
This one feels too much of a gamble for me but I do like the Jets to win here. As the season goes on we're starting to see who the best teams are. The Habs don't look to be living up to early season expectations.
Shit you know what I hate to say it – but I do think I gotta roll with the Jets today. The bookies are giving the Habs too much respect. Jets look like they are clicking at the moment and the new top line is working. This is at best a coinflip and I'm happy with the odds.
Also totally off topic but I saw someone backing the Habs tonight based on Price's career record against the Jets. Like sorry but the Carey of 2021 is NOT the same Carey from 2016. What a ludicrous reason.
Jets incl OT/SO
Canada: 2.25 Odds at Bovada.
Everyone Else: 2.24 Odds at BetOnline.
(Odds correct as of 2021/03/06 9:22:54 AM EST but are subject to change.)
Islanders vs Sabres:
I took Islanders in regulation last time out. They duly delivered. Do we see a similar result? I think so. In saying that – the odds have been drastically reduced. I was able to get 1.94 last time out and they were about 1.83 at most places. Now the best I can see is 1.71. Matinee games also give me hives. No bet here.
Devils vs Rangers:
Surprising odds as Rangers are favourites but not huge favourites despite their 6-1 win last time. 1.80 odds here. Of course Rangers are a hard team to really back.
Kreider is rolling and that's a big thing for the Rangers. Georgiev will be in net here and he's been okay this season. I kind of want to bet the Rangers here but I worry this is a trap spot. Would be nice to see Rangers get going and win 3 in a row for first time this season.
I can't bring myself to back it myself but I do think Rangers get the job done. When there's a hot player that affects everyone and that's what Kreider is doing right now.
Predators vs Panthers:
Panthers beat them last time out in a 9 game thriller. Great game by Ekblad. I expect Panthers to take this one but the odds don't make it a play.
Penguins vs Flyers:
Not touching this series. On paper it's an easy over 6 bet with the way the games have gone between the teams. I'm just a bit iffy on the overs bets this season when the teams are playing each other so much.
Coyotes vs Wild:
When I got on the Wild yesterday they were at 1.70. They're 1.71 today. I assume Talbot in net. I'd like to back them again. They had the Coyotes number last night. But these back to back head to head games concern me. No bet.
Avalanche vs Ducks:
Odds are mental. No bet. I mean I think at 3.10 odds etc Ducks have value here but I just can't advise a bet on the freaking Ducks.
Stars vs Blue Jackets:
Tight win for Jackets last time out. Stars favourites here. I don't hate the Jackets here honestly. They have to be gaining some confidence with a couple wins and that is what they need. Stars look bad. That Jackets defense is just so scary bad at the moment though. Just can't back it.
Kings vs Blues:
Back to back head to head. No thanks.
Oilers vs Flames:
Oilers come into this one on the back of three humiliating losses to the Leafs. Will that drive them onto success here? They beat the Flames twice last time out. Flames will be up for it after that 7-1 loss.
Flames just traded blowouts with the Sens. Will we see new coach syndrome with Sutter in there? Although he won't be coaching this due to having to go through the COVID protocols. Huska on the hot seat. Sutter will be interesting – honestly he seems like a real mismatch for this current Flames roster.
This is one of those games that feels like it is going to EXPLODE.
Yet I find myself holding back. Yes the Battle of Alberta is a classic. This one seems set up for a huge one. But the Flames have had a whopping 6 games out of their last 9 where they were held to 1 goal. Two of them were against the Oilers. The Oilers just got shut out twice and scored one measly goal against the Leafs.
This is one where my gut says it goes over and I expect it will but the incoming results is just enough to put me off. I just can't bet the over purely because it's the Battle of Alberta.
Sharks vs Knights:
Back to back head to head no bet. Gut says Knights take it and even cover the -1.5.
Follow @BetNHL
BetNHL.ca » Tonights Tips »