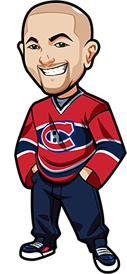 Written by Graeme on Sunday, March 6th, 2022
Follow @BetNHL
Hi guys,
A 2-0 day yesterday in absolutely spectacular fashion.
We had the Arizona Coyotes to defeat the Ottawa Senators. That one was done and dusted; Coyotes were up 4-0 and walking the game.
Next thing you know it is 5-4 to the Ottawa Senators.
You just have to laugh.
Thankfully, Coyotes then came back and won 8-5. I must admit it put me on edge the rest of the night. When the Red Wings scored with 5 minutes left to make it 6-2, I was like "here we go again". Luckily, we didn't get any insane comebacks there.
It was one of those nice days yesterday too where most results make sense. The favourites generally won or if there was an upset it wasn't really unexpected, the games that I thought would go over did, and after losing to the Kraken on the road, the Predators follow that up with an 8-0 victory. Perfectly standard day.
Let's see what we got for Sunday:
Sabres vs Kings
Sabres were able to follow up their huge victory over the Leafs with a win at home to Minnesota. Now they host the LA Kings, who come in stuttering quite a bit. Two losses followed by a tight win over the Jackets.
I wonder if McLellan missing the Kings games has been a factor at all.
I don't hate Buffalo here at all. However there are different types of value bets. There are value bets where you do feel there is a strong chance the team will win. Then there are bets where it really just makes sense mathematically, but you don't quite have that same feeling.
This one falls into the latter for me. I'll probably chuck some money on the Sabres as I do think the odds represent value, but it's not something I can advise. Especially with the Kings gunning for the playoffs. The more I think about it, the more I don't even think I will even back Buffalo.
Devils vs Blues
Blues had that tough one yesterday and that's two losses in a row for them. They just didn't look motivated there. They're practically in the playoffs at this point so I mean I don't blame them. Hard to get it up sometimes for a matinee game that doesn't really matter.
My gut says that was a little wake-up call for them yesterday. Then they probably string together 2-3 wins before blowing it next Saturday against the Preds ors omething. Devils are at home where they have been feisty their last few games here.
I'd have to take Blues in regulation here and I dunno – I'm just not completely sold on them here. The Devils seem to have a lot of energy at the moment and after yesterday I am concerned the Blues can't match it.
Wild vs Stars
Minnesota are surprisingly big favourites here. They are struggling. Stars are decent value and they had the day off yesterday. They haven't been too bad on the road lately.
Tips are actually a bit late today due to this game. I wanted to take a break and analyze it more with a fresher perspective. I just can't pull the trigger at 2.25. I'd need overwhelming value like 2.50.
Jets vs Rangers
Not betting anything involving Winnipeg and honestly from looking at the data, the bookies have this one nailed perfectly in the odds department in my opinion. As Winnipeg are favourites – and I agree with that senitment – expect them to lose handily here.
Scott likes them today, FWIW.
Hurricanes vs Kraken
No bet here. Canes would have to be -1.5 and I don't have that level of confidence in them at the moment.
Blackhawks vs Lightning
Tampa barely covered for us on Friday. No way am I taking a team -1.5 on the road. The over/under isn't anything I am interested in either as you never know what Hawks show up. Very inconsistent.
Knights vs Senators
Knights come in off that hard fought victory over the Ducks. They are big favourites and we would have to take them -1.5. Against a plucky Ottawa Senators team? No chance. Especially when you look at the odds, and the results. Not a play at all.
Ducks vs Sharks
These two teams had a 7 goal thriller just over a week ago as the Ducks ran out 4-3 winners. Sharks probably return the favour with a win here.
Sharks coming off that 8-0 drubbing by the Preds. Ducks had a couple of high scoring games going into this.
Ducks still have about a 13% chance to make the playoffs so they have that motivation. Sharks will want to bounce back strong.
I dunno my gut says this one goes over but when we look at the last 10 data for the Sharks specifically – it's woeful. Worst GF/60, worst xGF/60, an insanely low 44.4 corsi for.
Gut says this one goes over, the numbers say otherwise. Actually the metrics say the Ducks give them a thumping big time. Looking back at the data here – that Predators result was a long time coming for the Sharks. If I was tipping Preds games I might have noticed that (then backed them and THEY would have lost 8-0).
So on paper, this is a great spot for the Ducks to win convincingly. But coming off an 8-0 loss? I've got to think Sharks will be up for it more. I've spent awhile here trying to convince myself to back the Ducks but I just can't pull the trigger.
Follow @BetNHL
BetNHL.ca » Tonights Tips »