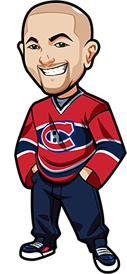 Written by Graeme on Thursday, March 7th, 2019
Follow @BetNHL
A 1-1 night for a winning night as we won our 1u play but lost our 0.5u play.
Capitals delivered. We had the Over in that game and it looks like the Capitals are in that end of season zone. They just looked miles better than Philly who to their credit fought hard.
Capitals are currently 2.50 to win their division at Bet365 (Americans: We recommend http://www.bovada.lv and I'm all over that with multiple units. They're two points ahead of the Islanders and just look like they're going on that sick run they usually do. I think that Islanders/Caps game was a big one in terms of lay of the land.
Capitals do have the much more difficult schedule with the games remaining but I can see them using that to really get going and pushing themselves hard.
We lost with the over in the Leafs/Canucks game. Leafs took a 2-0 lead then blew it and lost in OT. I was hoping the Leafs would carry the momentum over from that Flames game but we saw that complacency rise again in the first period.
It's Thursday, March 7th and a busy day ahead with 11 games on the board. My favourite part of the morning is just looking at the standings and getting excited about the games that mean a ton. Jackets vs Penguins is a massive game in the wild card. Habs are in action too away to the Sharks.
Over in the West another huge game as the Stars host the Avs. The Wild also look for points against Tampa so the Avs will be extra motivated knowing they can tie things up with Minnesota most likely.
Penguins vs Blue Jackets Betting Tips:
The Blue Jackets are struggling at the moment, and have dropped some valuable points. Now the question is can they rise to the occasion against the Pittsburgh Penguins?
They didn't a week ago when the Pens visited Columbus and thumped them 5-2. Can things be different here?
I will give the Blue Jackets full props if they are able to pull off the win tonight. But they've did nothing recently to suggest they will.
The only thing the Jackets have going for them is their last few road performances haven't been too bad. I'm not sure if it's just a lack of chemistry or what – but the Jackets just aren't a backable team at the moment in my opinion.
In terms of the bet itself, the Jackets have a better overtime/shootout record than the Penguins. 8-3 versus 5-9. Therefore just makes sense not to rely on overtime in this one. (Then throw your phone against the wall when the Pens win in OT)
1u on Penguins to win in Regulation.
One of those days where it pays to have an account at BetOnline. btw. 2.27 odds there compared to 2.15 almost everywhere else. Take 5 minutes out of your day and register there. Big line differences like this pop up at least a few times a week.
Canada: 2.27 Odds at BetOnline..
USA: +115 Odds at Bovada.
Everyone Else: 2.27 Odds at BetOnline..
(Odds correct as of 2019/03/07 9:13:01 AM EST but are subject to change.)
Wild vs Lightning Betting Tips:
Just this last week I was saying out loud "You can't bet against Tampa" while closing the books on the Bruins-Lightning game in terms of tipping. I wanted to take the Bruins but I felt you couldn't bet against Tampa.
Now the value is there that I think a bet against Tampa is worth taking.
Their last 6 isn't the most impressive. 3 games went to OT, a loss to the Bruins. They bounced back against the Jets and Sens but that's nothing to write home about.
They're a quality freaking team that's for sure. But they've got the East wrapped up and I have to wonder if we'll see some complacency in their last games of the season.
This is a big test for them. The Wild are on a run and haven't lost in regulation since that skelping off the Ducks mid-Feb. They are showing a good attitude and never give up. This is a crucial game and will be a big confidence booster plus showing they can play with the big boys.
I think they are worth a play here. Similar to the Penguins game it's tempting to take them in regulation in case their confidence is shot after the shootouts plus their overtime record this season. It's around 4.25 for that. However if it goes to overtime, the odds are nice enough that it's still an +EV play.
0.5u on Wild to win incl OT/SO
Canada: 3.10 odds at Bovada.
Everyone Else: 3.10 Odds at BetOnline.
(Odds correct as of 2019/03/07 9:13:01 AM EST but are subject to change.)
Blackhawks vs Sabres Betting Tips:
Blackhawks were handed a big loss from the Kings and followed that up with a loss to the Sharks. Those have to hurt.
Their playoff hopes are still alive – for now – due to the mess that is the West but this is a must-win game for them. No two ways about it. They can't get the goaltending going so they've got to push hard on the offense.
The only concern is that those Kings/Sharks games killed them off.
The Sabres are pretty much out of the playoffs. Mathematically they can still make it but February and March has killed this team off.
Despite that they are still able to score the goals and so that shouldn't be a problem against the Hawks.
It's a high line, but I still think both teams will be motivated and look to pile in the goals here.
1u on Over 7 Goals incl OT/SO
Canada: 1.99 Odds at BetOnline..
USA: -105 Odds at Bovada.
Everyone Else: 1.99 Odds at BetOnline..
(Odds correct as of 2019/03/07 9:13:01 AM EST but are subject to change.)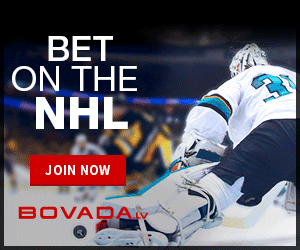 Follow @BetNHL
BetNHL.ca » Tonights Tips » March 7th, 2019 NHL Betting Tips