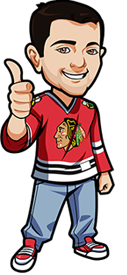 Written by Scott on Thursday, March 7th, 2013
Follow @BetNHL
What a night of hockey that was. The Habs continued to roll along with their win over the Canes. The Penguins managed to score 4 unanswered goals for the come from behind victory over the Flyers 5-4. Those pesky Blue Jackets upset the Canucks 2-1. The Capitals destroyed the Panthers 7-1. All in all just a great night of hockey
5 games are on tonight with the focus being the Blackhawks against the Avalanche and could this be the game that the streak finally ends? Well they didn't exactly blow out the Avs last game and with Patrick Sharp out for a few weeks, Hossa returning from the flu and Andrew Shaw also out this could be the night. Also tonight we have the Sens vs The Rangers , The Jets vs the Panthers, Flames at the Ducks and the Oilers vs the Predators. Good games all around.
Look I'm Canadian so obviously I love a good fight or a nice clean hit, but what happened in a Nationalliga B playoff game was terrible and quite possibly the worst, most vicious hit I have ever seen. Ronny Keller, a 33-year-old defenseman for Olten, was hit from behind by Langenthal player Stefan Schnyder
Heres the Video, if your squeamish, then please don't watch
And its hits like this that REALLY need to stop, that man is now a permanent paraplegic who's life is now ruined. Just horrible. I feel awful for him and his family as his life will never be the same.
Ok lets get to some good news after that depressing stuff and get to the tips for Friday March 8th, 2013:
Oilers vs Predators Betting Tips: Oilers To Win 2.60
This is a matchup between the 11th and 13th placed teams in the Western Conference. Although the Oilers lost last night to the Red Wings 3-0 I think that the 2.60 Odds at Bodog for a Oilers Win are just to good to pass up on.
Expect a bounce back game from the Oilers here and enjoy the decent return.
Jets vs Panthers: Panthers puck line -1.5 3.75

After getting destroyed by the Capitals last night, I fully expect the Panthers to come out flying in this one, and with it being against the Jets I think its worth heading to 5Dimes and take advantage of their adjustable spreads, make it -1.5 for the Panthers, and love the 3.75 odds! WAY to good to pass up on. Did I mention they were at home?
Blackhawks vs Avalanche: A Goal Will be Scored Before 9:30 of the First
In a game that could spell the end of the Hawks streak, both teams understand that they will need to get on the board quickly to have any shot of beating each other. The Hawks record make it not worth the bet on either team but its betting options like this that make this game bet worthy
Bet365 (Americans: We recommend http://www.bovada.lv has the cool betting option so head over and bet that a goal will be scored before the half way point of the first period for near Follow @BetNHL

BetNHL.ca » Tonights Tips »