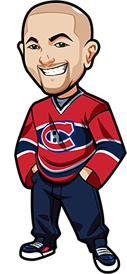 Written by Graeme on Wednesday, March 8th, 2017
Follow @BetNHL
We had just the 1 tip yesterday and we went 1-0, as the New York Rangers defeated the Florida Panthers.
Even though there were a lot of games there wasn't much we were liking. That's been the case a lot for the past couple of weeks – but we're not complaining. There's been a lot of surprising results lately and we've been able to steer clear of most of them.
A lot of people got burnt on the Oilers yesterday. That was a dismal performance by them and very disappointing to see at this stage of the season. You have to wonder if they're losing a bit of steam.
Tonight there's three games on the board as the Bruins hope to recover from a loss to beat the Red Wings. The Stars and Senators are on winning streaks as they face off and the Penguins visit Winnipeg.
Real quickly before I get to todays tips – gotta plug my Golf Betting Tips site again. I've now managed to get a ridiculous FOUR winners in three weeks. Here was last weeks:

Golf is an insanely high variance sport so don't expect something ridiculous like this all the time. However I've been profitable since I started posted the tips in 2015, so head on over to the Golf Tips in time for this weeks.
Right – todays NHL action.
Red Wings vs Bruins Betting Tips:
Since the coaching change, the Bruins have been on a general tear. They lost to the Senators on Monday but Ottawa are fighting hard at the moment and that was a tough game.
Wings are on a back to back but they're 5-5 for that this season.
Rask is confirmed in net and word is the Wings may have Coreau in net. I actually think Coreau isn't too bad a goalie if the Wings would just give him a regular shot. He had a nice run for the Griffins earlier this season. However with such sporadic appearances it's very hard for him to get settled.
Bruins just seem so much more solid and they're good at beating up on teams lower than them in the rankings. We like that to continue here.
Bruins in Regulation
Senators vs Stars Betting Tips:
I'm expecting a high energy game from the Sens tonight. They know the playoffs are still a possibility and they're playing that way -with some terrific performances.
However they generally play to their opponents and we like the Stars to perform well in this game. Dallas are incredibly leaky in the net but do well at scoring at home.
We're going with Over 5.5 Goals in this one.
Follow @BetNHL
BetNHL.ca » Tonights Tips »