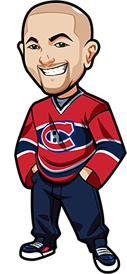 Written by Graeme on Friday, March 8th, 2019
Follow @BetNHL
A 3-0 night with the NHL Tips last night which was nice, with our big underdog play coming in. If you followed our KHL playoff tips from February 24th, we also went 2-1 there so that was great.
We had the Penguins in regulation and that one came in with ease. It's funny as I'll say it many times here – hockey is probably the highest variant sport of all, anything can happen on any given night and there's no such thing as an "easy" bet or a "lock" in the NHL.
In saying that – man, that Pens bet yesterday was probably the easiest bet I've made all season. I still can't believe those odds. Jackets are a highly troubled team at the moment who have lost their way.
we went with the underdog Minnesota Wild to pull off a victory against the best team in the NHL, the Tampa Bay Lightning. Felt good getting that 3.10 one coming in off the back of a Zucker hat trick. Of course like anything in betting; rather than being happy, I'm mad that I didn't tip them in regulation as I was tempted to.
We capped the night off with the expected goal fest in the Blackhawks vs Sabres game where we took over 7 goals.
One thing I find funny about hockey from a betting perspective is it means you focus on all of the teams. And while you support one team, throughout the season you go back and forth in regard to your feelings on a team. For example if the Oilers made the playoffs at this point in time, I'd probably superkick my TV into oblivion in anger.
I feel the opposite about the Blackhawks. They've just been so much fun to watch from a neutral perspective these past couple of months. Can't save worth a damn, but can't stop scoring. I find myself rooting for them so hard to make the playoffs, as unlikely as it is. I was more excited at them pulling off the win in OT last night than I was about the Wild bet.
Not sure how much non-NHL action we'll have over the next little while with it getting into playoff time. For example Lethbridge Hurricanes would normally be a pick today but they are in the playoffs as of yesterday. Unlike the NHL, I'm just not as familiar with the teams to where I can guage how they'll react. Steelheads in the OHL is another – would normally be a play but they could go into tonights game already in the playoffs and that may affect things. If that's the end of the non-NHL tips for the year, I just want to thank all of you for reading and glad we were able to get another profitable year out of them! Looking forward to adding new leagues next year and much like the KHL I'll see about some playoff tips.
4 games tonight and just the one play. I'll analyze the three other games:
Wild vs Panthers: Considering the odds, this seems like a real obvious play on the Wild. They'll be coming in confident after the game last night while the Panthers will be down. However I'm not sure that will be the case. Just looking at the Wilds run since February 21st – they've rarely looked like that confident, ass kicking team and I'm not sure we'll see that tonight.
In theory the Panthers heads will be down. Last nights loss and the run they are on was brutal. But this team shows no quit and until they actually start showing that? I don't feel good betting against them despite the odds. This is one where it wouldn't surprise me if it went to OT. A bet on the Wild to win is fine but I want to see then play with confidence more first.
Capitals vs Devils: Capitals are completely unbettable unless you go with the -1.5. I don't hate that but looking at the past results and performances of these two – it almost feels like a coinflip as to whether they'll cover that or not, and we're getting worse than coinflip odds. It's not the worst bet but not something I feel comfortable advising.
Hurricanes vs Jets: All signs point to a Hurricanes win, but the Jets are someone I am wary of betting against at the moment. Mathematically, Hurricanes in regulation is probably an +EV bet. I'm extremely close to a 0.5u play on Canes in reg here but I think I need better odds.
Canadiens vs Ducks Betting Tips:
This was one I was initially not going to tip, but the more I look at it, the more I got convinced the Habs are worth a play.
The Habs didn't play Price last night. It's almost like they waved the white flag against the Sharks. It's a strategy we've seen before by teams. Almost like sacrificing one game so you can focus on the next game.
That makes this game against the Ducks that much more vital. They went into that Sharks game prepared to lose the points so they could pick up full points in this game. That's the vibe I get anyway.
The wild card race is tight in the East of course so that makes it that much more important. Honestly this is an absolutely massive game for the Habs and I hope with Niemi playing last night, the strategy pays off.
My only real concern honestly is that despite Niemi in net, the Habs still played their hearts out last night and really went for it with the chances. Hoping they don't end up blowing this one due to fatigue.
Ducks blow it a lot in OT so may as well take that as well for extra insurance.
0.5u on Canadiens to win incl OT/SO if Price is in net
Canada: 1.90 Odds at GT Bets..
USA: -110 Odds at GT Bets..
Everyone Else: 1.90 Odds at GT Bets..
(Odds correct as of 2019/03/08 9:29:54 AM EST but are subject to change.)
Follow @BetNHL
BetNHL.ca » Tonights Tips »