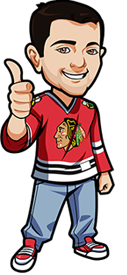 Written by Scott on Wednesday, March 8th, 2023
Follow @BetNHL
Was a busy night last night with 10 games for us.  I had 1 tip and it was a loss.
I had the Pens -1.5 against the Blue Jackets.  The Jackets were up 4-0 but they Pens tied it and Crosby won it in overtime.
The injured Leafs managed to beat the Devils 4-3 in a great game that wasn't decided until Matthews scored a powerplay goal with less than 3 minutes left.
The Panthers picked up a big win when they beat the Knights 2-1 to keep their playoff hopes alive.  The Canes beat the Habs 4-3 in a shootout.
The Lightning snapped their losing streak at 5 games when they beat the Flyers 5-2 with Kucherov and Killorn both scoring 2 and adding an assist.  The Avalanche won which stopped their losing skid at 3 games and moved them into 3rd in the Central.
A nice and slow night with only 3 games.  After two terrible days of tips for me I'm taking the day off.
Blackhawks vs Red Wings
The Hawks are coming off of a big win against the Senators where they shut them out 5-0.  As a Hawks fan it kills me to say this but I want them to lose each game at this point.  The further down in the standings they are, the better chance they will have of getting the top draft choice and Connor Bedard.
The Red Wings have dropped their last 6 games and are seeing their slim chances at a playoff spot slipping away.  They are currently 8 points out and after the moves they made at the deadline it would seem like they have thrown in the towel.
Wild vs Jets
The Wild played last night and lost 1-0 after 4 rounds of a shootout.  They are 8-0-2 over last 10 and are 4-3-1-0 after games played on no days rest.
The Jets haven't been very good of late.  They have gone 2-6-2 and find themselves in the wild card spot after being in 3rd for a while.  They are at home here where they have gone an impressive 21-10-2.
The Wild have won both games that they have played against the Jets this season and they are on a 10 game point streak allowing only 11 goals during this stretch.
This should be a good game.  The Wild have been playing so well that they will have the momentum.  But the Jets need to get back to winning to get back into 3rd and with them at home where they have had success they may do that.   They head out for a 3 game road trip after this against some tough teams the Panthers, Lightning and Hurricanes.  They return home for a game against the Bruins after.
Ducks vs Canucks
It's the Pacific Divsions 7th place and 6th place teams playing here.
The Ducks are 4-4-2 over last 10 but over their last 5 they are 3-0-1.  It's too late for them to do anything in the standings as they are 25 points out.
The Canucks have won their last 2 games and are 5-4-1 over last 10.  They are 18 points out.  The Canucks have been a better team with Tocchet as coach.  Garland said "Every guy wants to play for him because (winning) is not up to three guys that feel like they're deciding the game. Every guy has a role. It's not like he just opens the door for guys who can put the puck in the net at a high rate. You earn what you get".  If the Canucks can continue to buy in to the way Tocchet coaches and what he expects from his players then they will be a much better team next season.
It's tough to try and predict a game when both teams are basically eliminated.  I would lean towards a Canucks win but I'm not having any tips.
Follow @BetNHL
BetNHL.ca » Tonights Tips »