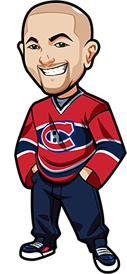 Written by Graeme on Saturday, March 9th, 2013
Follow @BetNHL
Sorry for the late picks today – had a bit of a late night last night. A Blackhawks fan needed me to go help him "drown his sorrows". That was quite the game – it's one thing to lose, but man the Avalanche just ripped them to shreds.
The Jets picked up a big one yesterday too and the Edmonton Oilers got clowned by Nashville. Their fellow Albertians Calgary also got destroyed by Anahem, in a night that brought us 3 completely one-sided games.
Hoping for some better hockey tonight. Lot of good games on the cards – Penguins visit Toronto, Habs go to Tampa and LA visit Calgary in 3 of a whopping 10 games on the schedule for March 9th, 2013.
Let's get straight into the betting tips – as it's a bit late I'll skip the Flyers/Bruins game and the Capitals/Islanders match-up.
Lightning vs Canadiens Betting Tips: Tampa to Win
The last time these two matched up was also in Tampa, where the Habs squeaked out a 4-3 shootout victory just under one month ago. In that game the Lightning looked solid despite the defeat, and they're coming into this game knowing that every game from here on out needs to be treated as a "must win".
The big man for the Habs at the moment is PK Subban of course, who is absolutely killing it. But he's not going to have much luck with Stamkos, who despite the poor Lightning performances of late has still been killing it.
This is a nice match-up for Tampa and unfortunately as a Habs fan I can see us losing this one by a couple of goals. Lightning 2.00 at Pinnacle.
Flames vs Kings Betting Tips: Kings -1.5
The hapless Calgary Flames had a pounding last night, and it's not going to get any better here. These two teams played 3 weeks ago and the LA Kings dominated the Flames in Calgary for a 3-1 victory.
We're going to see more of the same tonight. LA are absolutely sick at home and it's not going to be a pretty game to watch for the Calgary Flames fans out there. Jeff Carter in particular is going to continue to be on fire and put them to the test.
You can currently get a nice 2.45 on the Kings -1.5 at Bodog.
Red Wings vs Blue Jackets Betting Tips: Bobrovsky Under 27.5 Saves
This is a special prop bet available for 1.90 odds only at [geocode id=5.
We're betting that the Columbus Blue Jackets goal tender Sergie Bobrovsky will have under 27.5 saves to make.
Columbus have looked fairly solid at home defensively, and the Red Wings have been really struggling at hitting the net in recent games. Their offense just can't put up the goals or the shots and their confidence is hurt.
Detroit have been relying on their defense and I can see that happening a lot more in this game as well. Red Wings will try and pick up an early lead then sit back.
With the cold offense I'm just not seeing a lot of shots on target. Bet this at Bodog.
Follow @BetNHL
BetNHL.ca » Tonights Tips »