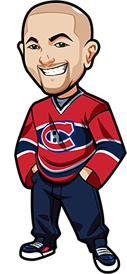 Written by Graeme on Saturday, March 9th, 2019
Follow @BetNHL
That was like bizarro night in the NHL last night, and I'm glad to escape with just the one bruise.
We had the Montreal Canadiens to beat the Anaheim Ducks. While it was a loss, I think we learned a lot more about the Habs going forward. That was a crucial game for them, and one they went in with a strong intention to win. They couldn't do it, and cracked under the pressure. It's nice to learn from your losses, and with the wild card race getting close that's some vital information for the future.
I'm glad I stayed away from the Wild. They're going to be a fun one betting wise in the future as it's going to be very tricky to decide when to bet them. Things like that are a fun challenge I find.
How about those Jets? Wow. 8-1 on the road after a 4-0 1st period. Incredible result. Going to be interesting seeing if they follow up with that and how the Canes react.
Canes will look to bounce back fast with a tricky trip to Nashville. Big battle going on with the Jackets vs Penguins. In the West, a crucial game for the Blackhawks as they visit Dallas. The Wild have the night off so the Coyotes will hope to apply some pressure as they take on the Kings.
Those odds on the Red Wings today. Holy. At that price it's gotta be +EV to bet them without any analysis required. They looked fantastic against the Rangers the other night. It's not a play I think I can advise, but looking at everything I think it'd be a mistake not to have something on them tonight. That's based primarily on the way they played against the Rangers.
Stars vs Hawks is one game where I really badly want to tip the over and I'll probably regret not doing it. Stars are playing some good hockey and two shutouts in a row but no-one has shut out the Hawks since November. They always find a way.
I want to put my faith in the Coyotes today – I really do. I'm rooting for them. I just don't think they are a playoff team sadly.
Leafs/Oilers I'd think will go over but can't count on either.
This was one of those days where going through each game, I just found it very easy to eliminate most games. Very tricky day.
Avs vs Sabres Betting Tips:
First a fair warning – this is one of those bets where I feel mathematically and statistically it's the right play; but my head thinks something different.
Avs have ran into some serious struggles in the playoff race. They've dropped a lot of key points in the last couple of weeks and haven't won in regulation since February 23rd. Now they're missing Gabriel Landeskog.
The Sabres meanwhile – they're not exactly on a winning run or anything but they're fighting hard in every game. Creating a lot of chances capitalizing on them.
The one problem is – I think it's one of those games where a team loses a star player and immediately band together. They dig deep and losing that player just makes them temporarily better. The line reshuffle may help too.
However based on the performances of these two teams going into this game, PLUS with the loss of Landeskog, I've got to go with 0.5u Sabres to win incl OT/SO.
This one was 2.55 when I initially looked but 2.50 is the best at the time of posting. Still a play but I think if it went down to 2.45 I'd be hesitant.
Canada: 2.50 Odds atBetOnline...
USA: +150 Odds at BetOnline..
Everyone Else: 2.50 Odds atBetOnline...
(Odds correct as of 2019/03/09 11:10:03 AM EST but are subject to change.)
Flyers vs Islanders Betting Tips:
These two just met recently. Philly came to the Islanders and thumped them 4-1. I've been a bit wary of the Islanders lately however – their play has regressed compared to late December/January.
I've been a bit happier with their play lately though. Obviously that game against the Leafs. They had the chances against the Flyers but just couldn't take them. Looked good against the Sens.
Flyers are fighting but can't really stop the goals going in. I think these two can push this game over.
0.5u on Over 6 Goals incl OT/SO
Canada: 1.99 Odds at BetOnline..
USA: -105 Odds at Bovada.
Everyone Else: 1.99 Odds at BetOnline..
(Odds correct as of 2019/03/09 11:10:03 AM EST but are subject to change.)
Knights vs Canucks Betting Tips:
I love this type of season in regard to analyzing teams and seeing who is playoff ready or or not. Each game they play, my opinion goes one way or the other. Like I mentioned above the Coyotes – I don't think they're a playoff team. The Knights are a team who are gaining my confidence a lot – no big shocker there – and are really looking like a playoff team.
They look like they are going from strength to strength. Canucks aren't a pushover and they'll have revenge in their minds but by god that performance the Knights put on against the Canucks last week was a good one. 83 CF, 63 FF. They were lethal.
They've got a quick Western Canada weekend trip here. The Flames game tomorrow is going to be a tricky one. Having just played both teams I don't think the Knights will be looking ahead at that one – they'll be more focused on cementing a win tonight knowing the Coyotes have an "easy" game.
1u on Knights to win in Regulation
Canada: 1.91 Odds at Sports Interaction + free $20 bet.
USA: -115 Odds at Bovada.
Everyone Else: 1.89 Odds at Casumo
(Odds correct as of 2019/03/09 11:10:03 AM EST but are subject to change.)
Follow @BetNHL
BetNHL.ca » Tonights Tips »