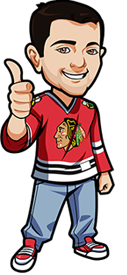 Written by Scott on Wednesday, March 25th, 2020
Follow @BetNHL
Hey!
It's March 25th and hockey has been off for 2 weeks. 14 long days without hockey. It sucks too as this is usually one of the best times of the season with teams fighting for home ice in the first round.
Only good thing to come out of this was it gave me more time with my wife and kids which has been great and reminds me why working nights and missing out on family dinners and sitting around chatting with them really sucks. My work hasn't been shut down so for once in my life I'm considered "Essential".
It has also given me time at night to get caught up on Shameless and get into Narcos: Mexico, both amazing by the way. Let me know in the comments what show you have been binging on during this quarantine. If not binging on TV let me know what you have done to pass the time. And please don't say "having sex" I'm married so we know that isn't happening lol. Depending on how long this goes on for I am going to need lots of suggestions.
But I hope you and your family stay safe as this is some scary times we are going through and I have read that the worst is yet to come for us here in Canada.
Russian Table Tennis
Liga Pro FNTR is on today.
Sergey Morozov vs Sarkis Moklosian should be a good close match.
They played back on the 11th and Moklosian won. Morozov is in a bit of a funk losing her last 4 matches.
Moklosian has gone 3-2 over her last 5 matches.
With recent results I'm going with Moklosian to win today. Getting odds of 1.83 at Bet365 (Americans: We recommend http://www.bovada.lv
Sorry for having only one tip today. It's been a while since I have watched and gotten into Russian Womens Table Tennis and am a little rusty. But I'm digging out my old stuff to get back into it. Need to relocate all my Blackhawks stuff to make room for all my Sarkis Moklosian things.
Follow @BetNHL
BetNHL.ca » Tonights Tips »