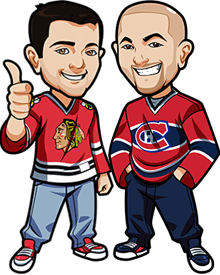 Written by Graeme & Scott on Wednesday, May 10th, 2017
The Ottawa Senators are for real.
Out of all 16 teams that made the playoffs, they're probably the won that got the least respect.
From us during the regular season and playoffs – we rarely tipped them.
From the sportsbooks themselves. Despite home ice advantage in both games, they were underdogs. They were the biggest underdogs to progress to the Eastern Conference Final and the 2nd biggest underdogs just to make it out of the first round.
And from the media. The general Canadian sports media has been focused on the Leafs and Oilers. Any talk about the Senators is usually about their low attendance figures.
Yet here they are. In the Eastern Conference Final. And very, very well deserved too. Very few easy games but this team has shown a lot of heart and grit.
You can't count them out. Major props to the Sens.
Capitals vs Penguins Game 7 Betting Tips:
Scott: The Caps have a chance to eliminate the Penguins for only the 2nd time in 10 meetings in the playoffs.  It sure didn't look like this series would get to 7 games after the Pens were leading 3-1 but 2 big wins by the Caps has us here.
A real tough game to call and history would suggest the Penguins have the edge in this one but the momentum the Caps have after 2 huge wins and playing at home might change that.
No Bet instead just enjoy what's sure to be a fantastic game.
Graeme: I've got my Penguins to Win in Game 7 bet that I placed before the series began – so that's put me off having any strong feelings in this game. I'm quite happy riding this one.
In saying that – the Capitals have shown over the last couple of games that they have that playoff drive in them. This is them at their best and if they continue this way they're unstoppable.
However the Penguins, despite being a bit beat up, are an experienced team with a lot of quality. You can't count them out.
I think the correct bets are either Penguins to win which is around 2.70 odds or Capitals in regulation at 1.95 odds.
Penguins are a tremendous price and I'm a sucker for odds like that for a team of the quality of the Pens. On the flip side if the Caps can continue to play as they are and the Penguins don't pick themselves up the Caps should dominate and win with ease.
Me personally – I'm a sucker for the odds and would go for the Pens.
Oilers vs Ducks Game 7 Betting Tips:
Graeme: I have absolutely no idea. After the blowout last time I can see the Ducks coming back and playing a hell of a lot better especially at home.
In saying that the Oilers look better and better the deeper we get in the playoffs.
I'd say this is 50/50. Best I can get Oilers is 2.04 it seems.
Honestly much like the Pens/Caps game I'm very conflicted. I also have some personal bias in that I have some really nauseating Oilers fans as friends and man – I'd love to see them eat some crow.
No Bet for me as even the Over isn't convincing with the performances these goalies have brought out at times. I'd probably lean towards Oilers though.
Scott: The Ducks have issues when they are playing a game 7 at home.  They have lost 4 game 7's at home in a row.  This series has been awesome and with their recent record in game 7's at home and the pounding the took in game 6 you would think that this game is all Oilers.
But the young Oilers team aren't familiar with game 7's.  Even though the Ducks haven't had any success over their recent game 7's they still have that experience.
I want the Oilers to win but I'm not sure who will.  Instead I'll go with a player prop.
Patrick Maroon has had a great series for the Oilers scoring twice and adding 5 assists. He has got a point in 5 of the 6 games in the series so I'm going with him to continue this strong play.
Maroon to register a point for 2.10 odds at 888 Sports Americans check out the player props at Bovada.
Best America Sportsbooks for NHL
BetNHL.ca » Tonights Tips » May 10th, 2017 NHL Betting Tips