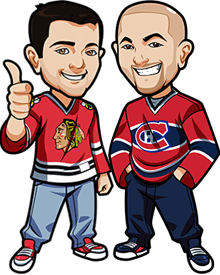 Written by Graeme & Scott on Friday, May 10th, 2013
Follow @BetNHL
Fantastic night of betting as we went 3-0! First it was the Penguins covering -1.5 in their 4-0 win over the Islanders, this is what we predicted when we said it would end 3-0 or similar. Then the Blackhawks also covered the spread winning 5-1 over the Wild and are now moving on to the second round. And finally we predicted a goal would be scored in the first 9:30 of the Habs – Sens game and it only took 2:17 for the first goal to happen in the Sens 6-1 series clinching victory over the Habs.
Like him or not Sidney Crosby is just a beast! After suffering a broken jaw during the season missing the last 12 games of the regular season and the first of the playoffs, Crosby hasn't missed a beat picking up where he left off and now has 8 points in 4 playoff games so far including this beauty from last night:
Well is was a good night of results for one of us and a terrible night for the other but although both of our teams aren't moving on there is still plenty of hockey left and even more money to be made in these playoffs.
Tonight we have 4 games: Maple Leafs vs Bruins where the Leafs are facing elimination and must win out the remaining games to move on. The Rangers – Caps game where the series is tied 2-2. The Ducks vs The Red Wings with the Ducks holding a 3-2 series lead and the Blues – Kings, and with the Kings winning the last 3 games now hold a 3-2 series lead.
Also we will be getting back to doing some Live NHL Betting on the weekend so be sure to follow us on Twitter or Like us on Facebook and be signed up at Bet365 (Americans: We recommend http://www.bovada.lv to take advantage of these Free NHL Tips:
Twitter: http://www.twitter.com/BetNHL
Facebook: http://www.facebook.com/BetNHL
Now for the NHL Betting Tips for Friday May 10, 2013:
Capitals vs Rangers: Over 5 Goals
After the first 2 games were low scoring the last 2 have both ended with 7 goals in 4-3 and 4-3 wins for the Rangers. This is a critical game for both teams as the series is tied at 2 so I expect this game to be a intense battle with plenty of goals.
This series has also had all games being won by the Home Team so will the Caps continue the trend or will the Rangers reverse it and win on the Road? Either way this game is sure to be a great back a forth battle.
Bet that this game will go over 5 goals at Bet365 (Americans: We recommend http://www.bovada.lv for 1.95 betting odds
Ducks vs Red Wings: Ducks To Win
Although this series has featured alternating wins by each team I think that this is going to end tonight with the Ducks coming out on top. The Red Wings are a shadow of the Wings teams of the past and I think that the aging roster just doesn't have what it takes to get past this hungry Ducks squad.
And for betting odds of 2.10 at Bet365 (Americans: We recommend http://www.bovada.lv this bet is defiantly worth making and we have a great shot of cashing in the the elimination of the Red Wings
Grand Salami: Over 20
The Grand Salami is 20 tonight which means by betting over we need there to be 20 goals scored by all teams combined for us to win this bet.
This shouldn't be a problem as scoring has picked up in these playoffs and with 3 of the teams facing elimination, tonight should be some great intense hockey packed full of goals.
Bet the Grand Salami Over 20 at Bet365 (Americans: We recommend http://www.bovada.lv for 1.95 betting odds
Follow @BetNHL
BetNHL.ca » Tonights Tips »