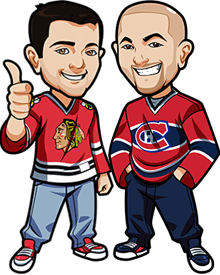 Written by Graeme & Scott on Saturday, May 11th, 2013
Follow @BetNHL
Only one game tonight in the NHL, as the Pittsburgh Penguins take on the New York Islanders in Game 6 of their NHL Playoff Series. The Penguins lead 3-2 in the series, but the Islanders have been the surprise package with most expecting the Penguins to sweep the Islanders. Instead, New York have made it very tough for Pittsburgh.
Usually we do three tips on here, and then spread it out over all the games that are playing that night. However it's a bit tricky with just one game being played.
So we're doing something new here: we're going to still do three tips, but for tonight there is the "Primary" tip and then two "Secondary" tips.
The "Primary" tip is our main tip. If you read it, believe it and like it, then you should also bet the "Secondary" tips. Those are both based off the Primary tip winning and our forecast of this one game going exactly the way we expect. In other words we're putting all our eggs in one basket tonight, increasing the chances of going 3-0……or the dreaded 0-3.
Let's do it. And we're going all-in with the Pittsburgh Penguins.
Oh and before we forget – did you know you can get these tips delivered free each day to your inbox? Simply insert your e-mail address below. No spam or anything like that – just NHL Betting Tips, and constant cursing of the Ottawa Senators for the rest of the playoffs!
Primary Betting Tips: Pittsburgh Penguins to win in Regulation
This is a tough bet to make. In Game 6 of the Playoffs we're going to be riding on the road team to win after two incredibly tough games on the road already in the series, losing one game and scraping through another in overtime.
Vokoun being added in Game 5 however, changed Pittsburgh around. They were so much more confident and comfortable with Vokoun in net, and it allowed them to attack more and open up more and really take the game to the Islanders. One other thing that really went under the radar with Vokoun being in net, was that Andrew MacDonald was out. That was quite a big loss for the Islanders that I really feel hurts them defensively too.
We really like the Penguins to wrap up the series here. The Islanders won't make it easy on them, but the Penguins are going into this game with a lot of confidence. If it's possible for a goalie to go on a "hot streak" after just one game then that's what Vokoun is on – and with a confident goalie and players like Crosby – the Penguins should take this one.
You can get 1.90 odds on the Penguins to win at Bet365 (Americans: We recommend http://www.bovada.lv. Depending on your settings, it may be listed under "Money Line 3-Way".
Secondary Betting Tips: Goal Before 9:30
The odds on this one are pretty low at 1.71 odds, which just make our threshold for a bet here. Islanders are going to be frantic from the beginning. I mean come on – you guys have seen the games. They're not going to sit in and be defensive. They're going to come out swinging, and go down swinging.
This is going to be an intense opening period, and just ice to ice stuff. You can bet a goal in the first 9 minutes and 30 seconds for 1.71 odds at Bet365 (Americans: We recommend http://www.bovada.lv.
Secondary Betting Tips: Under 6 Goals
The way this series has gone makes it nerve-wracking even typing under 6 goals, let alone betting it. However Game 5 was a game changer in our opinion – not just a one-off. With Vokoun in net, and the Pens needing just the W to go through and miss out on a nervy game 7, we think this can be another tight one. Pittsburgh know how to move the puck around – we like Pittsburgh to pick up a goal or two early then play tight and really stretch the Islanders.
Take the under 6 goals at 1.83 odds at Bet365 (Americans: We recommend http://www.bovada.lv.
Follow @BetNHL
BetNHL.ca » Tonights Tips »