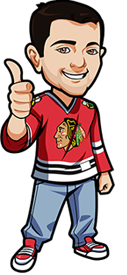 Written by Scott on Monday, May 11th, 2020
Follow @BetNHL
Well the fire ban was lifted and we had a great campfire last night. It was a great gift to give my wife for Mother's Day. Nothing like a dinner of hot dogs and marshmallows to really show her how great of a mom she is.
Bovada/Bodog is running a 32 team tournament with single round robin divisional stage followed by knockout stage for NFL Simulations. Tournament will run from May 9th-24th. Rosters updated as of end of 2019-2020 Season. CPU Sim. 15 minute quarters. Rookie mode. Each game will be broadcast on twitch.tv/livefootballsims.
This may be something fun and you can bet on who will win the Sim Bowl, AFC Conference, NFC Conference and even which Division the Sim Bowl winner will come from.
NFL Sim Bowl Betting Tips
Being that the game is played on Madden 20 and the cover athlete for this year is the Chiefs quarterback Patrick Mahomes and the Chiefs did win the Superbowl then I see no reason not to back them in this. They went 12-4 during the regular season and won the AFC West.
If you bet on the Chiefs to win the Sim Bowl now the odds are +650 at Bovada/Bodog
Another team with the same odds as the Chiefs is the Ravens who had the most wins during the regular season going 14-2 and won the AFC North. You can bet the Ravens to win the Sim Bowl for +650 odds at Bovada/Bodog.
Being that this is played on Madden 2020 using rookie mode I think that quarterbacks like Patrick Mahomes and Lamar Jackson will do well and betting on either team is worth the risk and even betting on both isn't a bad idea. But this is still just a simulation and anything can happen.
Follow @BetNHL
BetNHL.ca » Tonights Tips »