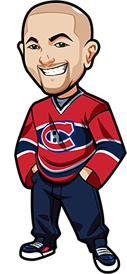 Written by Graeme on Wednesday, May 11th, 2022
Follow @BetNHL
It was another great night of playoff hockey.
The Toronto Maple Leafs mounted a big comeback to take the lead against the Tampa Bay Lightning. That was a huge one for them as this series swings back and forth.
The Hurricanes got back on track with a massive win over the Bruins, the Blues have taken a big 3-2 lead back home (and hopefully winning me my 2.35 series bet).
And then there's the Edmonton Oilers.
It's looking like yet another season of heartbreak for Oilers fans. They fought their way back into the game last night and then as soon as OT started it was just like you knew they were done. And they were. That killed our series bet and I am very frustrated about that one because I really thought Doughty missing would be enough for the Oilers to get the W.
Very disappointing stuff.
Let's look at todays three games:
Pens vs Rangers Bets:
Scott: The Pens have won 2 in a row scoring 7 times in both games and now have the Rangers on the verge of elimination.
The Rangers and Shesterkin held the Rangers to 4 goals in 4 game during the regular season but they haven't been able to stop them in these playoffs.
The Pens are rolling and Crosby is in a zone with 9 points in 4 games and the Rangers have dug themselves the deepest hole. That's not saying that they can't rattle off 3 wins in a row but it's going to be a lot of work. The Pens are riding their 3rd string goalie and are still winning.
I picked the Rangers to win the series but with the way the Pens have played this round it's going to be hard to stop them. The odds for a Pens win seems decent enough that I'll back them to end the series tonight.
Pens win incl OT
Graeme: Here's what I said prior to the previous game: "Thing is looking at it all – man, I don't even know what the Rangers can do to adjust. " Rangers clearly don't know what to do either.
I backed the over in that one, and not much has really changed. However I do have a concern that the Rangers may fade tonight after that win. By the metrics it's still the bet to make. Both offenses still putting in the production although the Rangers offense wasn't there as much last game.
I don't think the Rangers can make the adustments to stop the Pens. The only way they do is if Shesterkin stands on his head but as we saw in Game 1 that isn't enough sometimes. Odds seem fine considering the way the previous games have been going.
Penguins win incl OT
Ontario: 2.15 Odds at Bet365 (Americans: We recommend http://www.bovada.lv
Rest of Canada: 2.17 Odds at BetOnline.
USA: +117 Odds at BetOnline.
Everyone Else: 2.17 Odds at BetOnline.
(Odds correct as of 2022/05/11 7:21:00 AM EST but are subject to change.)
Caps vs Panthers Bets:
Scott: The Panthers won game 4 in overtime to tie the series 2-2. The Panthers outshot the Capitals 32-16 in game 4 and look to be finding their game even though they have troubles scoring.
These teams have traded wins so far so does that mean the Caps win game 5?
This series has proven difficult to predict. If the Panthers can regain their regular season scoring form then they should win the best of 3 series here. But if the Caps can continue doing what they have done in the series so far then they can win it.
No Bet
Graeme: While the Panthers were able to get the win in Game 4 to tie up the series, it wasn't some massive momentum swing in terms of the results.
However the adavnced metrics do tell a different story. The Capitals offense just couldn't get going in that game at all. I mean you can see that with the shots they took. It was a much grittier performance by the Panthers and it managed to work for them. It was still very thight though and needed a comeback.
I won with the Caps on the 7th with a bet at 2.60 odds. There's certainly some value here but I don't know – part of me thinks that the Panthers have figured out how to stifle the Caps. The other part of me thinks that even though they were able to, they still needed a comeback and OT to get the W.
This one feels like a lot more of a gamble than a calculated risk but I'm going to take a shot on Caps – Draw No Bet.
Ontario: 2.85 Odds at Bet365 (Americans: We recommend http://www.bovada.lv
Rest of Canada: 2.85 Odds at Bet365 (Americans: We recommend http://www.bovada.lv
USA: Could do Caps or Draw +105 at Bovada
Everyone Else: 2.85 Odds at Bet365 (Americans: We recommend http://www.bovada.lv
(Odds correct as of 2022/05/11 7:21:00 AM EST but are subject to change.)
Stars vs Flames Bets:
Scott: Another series that's tied 2-2.
The Flames had 54 shots in game 3 and they are going to make Oettinger work. The Flames need to make the games high scoring which forces the Stars to play a style they aren't as comfortable playing.
Game 4 saw the Flames score more goals then they had in the first 3 games combined. With the home fans behind them they need to continue burying pucks to keep the crowd in it. They know what they have to do and with it being a best of 3 series now they really have to.
There hasn't been any overtime yet in the series so I'll take the home team to win in regulation.
Flames win in regulation
Graeme: The Calgary Flames got a huge win to tie up the series. I said it in yesterdays write-up but their offense found a whole other gear and woke uo.
I've been waiting for that to happen and I've got to think they can roll with that momentum now. We've seen that sort of thing from them in the regular season. Stars are a very tricky team who can stifle a lot of top offenses but when that Flames offense is hot, I can never back against them.
Flames in Regulation
Ontario: 1.80 Odds at Bet365 (Americans: We recommend http://www.bovada.lv
Rest of Canada: 1.80 Odds at Bet365 (Americans: We recommend http://www.bovada.lv
USA: -140 Odds at BetOnline.
Everyone Else: 1.80 Odds at Bet365 (Americans: We recommend http://www.bovada.lv
(Odds correct as of 2022/05/11 7:21:00 AM EST but are subject to change.)
Follow @BetNHL
BetNHL.ca » Tonights Tips »