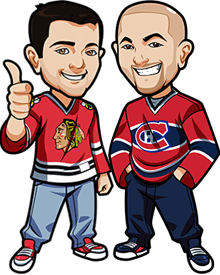 Written by Graeme & Scott on Thursday, May 12th, 2016
Follow @BetNHL
A nice 2-0 night last night to continue some profitable playoff betting for us!
It was not a nice night for the Dallas Stars however who got hammered for the 3rd time in this series and you now have to seriously consider the Blues as Stanley Cup contenders.
They won a very hard playoff series against the Blackhawks, and in another tough one with the Stars they had some absolutely dominating wins that will scare the crap out of the Eastern Conference finalists, and the winners of tonights game.
Speaking of we'll find out who the Stars face off against tonight.
Something interesting that we love about sports betting is going into a few basic statistics. We were talking with a friend last night while watching the game and he said to us "I don't know why you don't just bet Over 5 in every game in the playoffs. You'd be rich as hell."
It does seem like that, considering there's been a lot of Over 5s lately or at the very least – pushes. But as always – it's best to look at the stats.
Every single NHL Playoff game at Over 5 has seen the odds vary from 1.66 to 1.90 however the actual average of all of the games, at the BEST possible odds, is 1.77.
The first round of the playoffs saw a 16-19 record for Over 5s, and an 11-5 record in the semi-finals.
If we bet 1 to win 0.77 on all of that we get:
1st round: -6.68 units
2nd round: +3.47 units
Total: -3.21 units.
So if you bet every Over 5 during the playoffs, you'd need to be betting at 1.90 EVERY GAME just to make a 1/3 of a unit profit. And even in the 2nd round you're looking at 68.8% of games going over 5 goals. If you bet that at a larger sample size it'd eventually work out to be in the negative as well.
Just an example of how you really need to look into stats. However it's easily to get swayed – especially in a situation like this where a lot of games are landing on exactly 5. It makes the Over 5 look that much more appealing.
If you're a slots fan, we'd like to recommend SlotsBuddy.com which is a cool site to help you find specific slots online. If you're a sports fan for example, you can click the "Sports" selection and see the likes of the Hockey Hero Slot or the Ice Hockey Slot.
Onto tonights tips:
Predators vs Sharks Game 7 Betting Tips:
Scott  Another game 7 for us to enjoy.  With the Sharks at home they get to choose the matchups on the ice thanks to the having the last line change.  So the Sharks top line of Hertl, Thornton and Pavelski won't have to face Weber and Josi as often and will have a better game after only having 3 shots in game 6.  And the home teams have won each game this series so I see that trend continuing.  The Sharks have won all 3 of their games against the Preds in regulation which helps as the odds are brutal for the money line
Sharks in regulation
Graeme: I gave up on this series in Game 5 then completely forgot about that in Game 6, tipped the over and we had a win with that.
There's been no real goalie clinics in this one and each game has went 5 or over. I see no other betting option here other than over 5 Goals.
$25 risk free bets on player prop, in-game bet and $50 risk free mobile bet. Available for NEW customers only at BetOnline.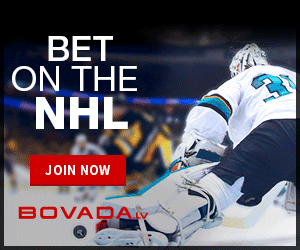 Follow @BetNHL
BetNHL.ca » Tonights Tips »