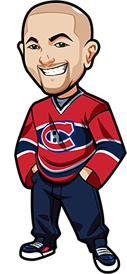 Written by Graeme on Friday, May 12th, 2023
Follow @BetNHL
It's the end of the road for the New Jersey Devils, as they were beaten in OT due to a PP on a delay of game call. not the first delay of game penalty for them this series and that is a killer.
Glad I stayed away from the over in that one.
I had a nice winning evening thanks to the Kraken/Stars game, and the 2nd period being the highest scoring. A bit worried with the start that game had, but thankfully the 1st period had no more goals then we had that big 2nd period.
Just a pity the Kraken couldn't add to the winning money. I'll have to double check but I believe I've had a winning night every night so far in this round of the playoffs which is pretty mental.
Let's get to tonights:
Leafs vs Panthers Game 5 Betting Tips:
Scott: Woll was awesome for the Leafs making 24 saves in his first playoff start.
The Leafs hadn't had a power play in 5 periods and when they got one in game 4 they made it count when Nylander was gifted a puck that went off of the referees knee and out front for the score. This was the first goal from the Leafs top 4 players this series.
With game 5 in Toronto I would think that the Leafs should win but I'm not touching that. And with the way game 4 ended with a big scrum this should be a fun game to watch.
No Bet
Graeme: First off, this one is an easy no bet for me. I do have my theory that the Panthers won't be able to close due to those late regular season performances. It's a weird type of pressure and I was instantly reminded of that sort of performance in Game 4. But the Leafs price isn't worth it at all. They have NOT been performing well at all, and I wouldn't waste a penny on those bunch of wasters. So No Bet for me right off the bat.
Looking at the metrics for the series….5 vs 5 is pretty close in advanced metrics, and it's more a case of the Leafs offense not performing like they should. Yeah okay you didn't need me to tell you that. Their xG stats are right on point with the regular season. It's just that complete lack of goals.
Normally in a case like this I state that a team like this is due to light someone up. And they are. But man having watched every minute of every game, it's so hard to say that.
By the metrics – eh,I don't even know if a Leafs in regulation et is worth it. You're basically betting "hey this team that has phoned it in a ton is actually going to step up tonight even though they've had plenty of other opportunities to step up and haven't. Just too high variance for me.
I think if I was betting it, I'd maybe try and look at another angle where you get better odds for the Leafs to steamroll them. Like I think I would jump on the handicap as opposed to in regulation as an example. But that's a pretty big if.
Knights vs Oilers Game 5 Betting Tips:
Scott: This series had been great. Game 4 was a crazy game that saw the emotions boil over.
The Oilers scored the first 3 goals of the game and were up 4-0 after the 2nd. Nugent-Hopkins finally scored which will only help the Oilers now that he had his 1st. The 3rd was full of penalties. Stephenson and Marchessault received misconducts for the Knights and Yamamoto and Evander Kane for the Oilers. Hague and the Nurse fought and Pietrangelo got a major and a game misconduct for a hard and high slash on Draisaitl.
With game 5 back in Vegas and with these teams trading wins I would lean towards a Knights win. But it's the goalie situation they find themselves in that has me put off of taking them.
Oilers win incl overtime
Ontario: 1.76 Odds at Bet365 (Americans: We recommend http://www.bovada.lv
Canada: 1.76 Odds at Bet365 (Americans: We recommend http://www.bovada.lv
USA: -131 Odds at BetOnline.
Everyone Else: 1.76 Odds at Bet365 (Americans: We recommend http://www.bovada.lv
(Odds correct as of 2023/05/12 6:56:01 AM EST but are subject to change.)
Graeme: Hate to say it but another no bet for me.
This one I don't even know if it's worth looking at the metrics. First, we've had some really lopsided games so it doesn't create a good balance. Second, after everything that went down the last game? You can expect this to be a rather um "passionate" game and just going to be mental.
And man just wait until Piets comes back. What a joke 1 game was for that.
Anyway looking at the odds and the metrics, seems about on point here. I'd give that slight edge to the Oilers for sure. But in a battling matchup, Knights thumped them 6-4, and we also saw the Oilers just mentally not show up in Game 3. Too off-putting for me.
Follow @BetNHL
BetNHL.ca » Tonights Tips »