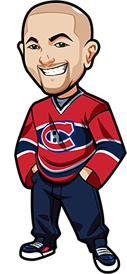 Written by Graeme on Friday, May 13th, 2022
Follow @BetNHL
Hi guys,
My apologies for the lateless in this today. Just been one of those days.
So the Leafs have a Game 7. Don't you just love it? I'm so conflicted on it. Part of me wants them to go through, and part of me wants the Game 7 nightmares to continue. It is my favourite trope in hockey.
The Oilers were able to pull a Game 7 out as well as the Bruins. Going to be some awesome hockey coming up. The Blues rocked the Wild 5-1.
Let's get right into todays games:
Rangers vs Penguins Bets:
Scott: The Penguins had won 2 straight scoring 7 goals in each game and were leading 2-0 but the Rangers had a huge comeback win to stay alive in the series. Crosby left the game in the 2nd period and the wheels came off for the Pens.
With this game in Pittsburgh the Pens will have the home crowd there to help push them to the next round. The Rangers know that if they can win this game then they will force a game 7 where they will be at home.
The Rangers are going to need to dig deep and find a win here but with the regular season they had I have faith in them. Crosby is out. He was carrying the team through the playoffs with 9 points through 5 games and likely would have added to that total had he not left in the 2nd period of game 5.
Rangers win incl OT
Ontario: 1.83 Odds at 888 Sports.
Rest of Canada: 1.84 Odds at BetOnline.
USA: -118 Odds at BetOnline.
Everyone Else: 1.84 Odds at BetOnline.
(Odds correct as of 2022/05/13 3:37:33 PM EST but are subject to change.)
Graeme:no bet. The Crosby factor is too big for me to risk anything.
Panthers vs Capitals Bets:
Scott: The Capitals were winning 3-0 early in the 2nd but the Panthers went and scored 5 unanswered to win 5-3. They have earned the nickname "The Comeback Cats" where they had 29 come from behind wins in the regular season. Verhaeghe had a 5 point night setting a new Panthers playoff franchise record.
It's almost like the Panthers need to be losing in the game as they thrive in playing from behind. With game 6 in Washington the Caps will be feeding off of their fans and try and force a game 7. The Panthers, although great at coming back, would love to get an early lead and keep it. I have to skip this one
No Bet
Graeme: The Caps were a bit unfortunate in that last one. Annoyingly for me I placed my Caps bet at B365 where they have the early payout if a team goes up by 3 goals. Unfortunately I went with draw no bet, and that doesn't count for that.
Caps have the one 6-1 win at home. The concerning thing for them is the advanced metrics where they just haven't looked like the better team even in their wins.
I was tempted with the over 6.5 here but it's 1.71 and no value in that I feel.
I dunno it's do or die for the Caps right now. I think getting these odds on a team at home to win a do or die game, I gotta takeit.
Caps win – draw no bet
Ontario: 2.40 Odds at Bet365 (Americans: We recommend http://www.bovada.lv
Rest of Canada: 2.40 Odds at Bet365 (Americans: We recommend http://www.bovada.lv
USA: Could do Caps or Draw at Bovada
Everyone Else: 2.40 Odds at Bet365 (Americans: We recommend http://www.bovada.lv
(Odds correct as of 2022/05/13 3:37:33 PM EST but are subject to change.)
Flames vs Stars Bets:
Scott: The Flames were down 1-0 at the start of the 3rd but managed to score 2 and add an empty net goal for the 3-1 win.
The Stars have proven to be a pain in the ass for the Flames. The Flames now have two chances to win one game but the Stars have already won 2 in a row in this series so its not over yet for the Flames.
This series has been much closer then I had anticipated and it has been a goalie showcase as Markstrom and Oettinger have both been great. I figured the Flames would walk all over them. But the Stars have been great and able to keep the Flames from scoring a pile of goals. This is a tough one to call.
No Bet
Graeme: Stars are decent underdogs here although not as much as the Caps. I was disappointed in the Flames in that last game. I thought their offense had finally woke up and was going to come alive but that really wasn't the case.
They still got the job done but it wasn't what I expected. Game 3 had better offensive production from them for example.
Stars at home one last shout? Call me crazy here but I have a theory going into this one. The Stars offensive metrics have been a lot better at home. Both games also saw the Flames with high metrics 80 and 101 Corsi.
This series has went under 5.5 goals 4 out of the 5 times but I think in this massive game, with the Flames offense hopefully able to produce – we see the goals.
More of a theory than any real data to back it up. Over 5.5 Goals
Ontario: 2.16 Odds at Sports Interaction (SIA) - Non-Ontario bet $10 get $200
Rest of Canada: 2.16 Odds at Sports Interaction (SIA) - Non-Ontario bet $10 get $200
USA: +119 Odds at BetOnline.
Everyone Else: 2.19 Odds at BetOnline.
(Odds correct as of 2022/05/13 3:37:33 PM EST but are subject to change.)
Follow @BetNHL
BetNHL.ca » Tonights Tips »