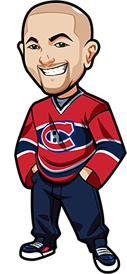 Written by Graeme on Saturday, May 13th, 2023
Follow @BetNHL
Well, rather controversially, the Leafs have been eliminated from the NHL playoffs.
The referees are under fire last night. First with the disallowed goal for the Leafs that looked like it eeked over the line, and then with the Panthers goal at the end with the high sticking non-call.
Disappointing it had to end that way. Emotions are high right now, but I think when it dies down people will lay the blame in the right place: at those Leafs players who are paid a ridiculous amount of money and just didn't deliver.
The Panthers have shown up in pretty much every game of the playoffs thus far. The Leafs haven't. Not just this Panthers series, but in a few games in the Tampa series too. It sucks that they got eliminated the way they did, but they just didn't deserve to go further.
I liked the mature way people in Kingston (and I assume elsewhere) handled it. By driving around town after 10pm, angrily honking their horns. That'll solve things.
The Oilers lost to the Knights and are now down 3-2 going to Vegas. It's like I said way back at the beginning of the series: it does not matter how good this offense is. Skinner is a liability. I love the guy and he was great in the regular season, but the playoffs are a bit too soon for him. It is what it is.
I really hope they go with Campbell next game. Even if he doesn't perform, it at least takes pressure off Skinner in that regard.
Oilers also continue to greatly struggle in 5 vs 5. That's a really big factor and a concern for them. I think they may be done.
Just the one game today, with the Kraken vs Stars. Then tomorrow it's Oilers hosting the Knights. Monday will see the Panthers vs Canes series start.
Let's get to it:
Kraken vs Stars Game 6 Betting Tips:
Scott: The Stars are 1 win away from moving onto the Western Conference Finals.
They reunited the top line by bringing Pavelski back with Hintz and Robertson and it paid off. Hintz scored twice, Pavelski scored his 7th and Robertson got an assist on all 3 of the goals. When Pavelski was on the 1st line at the beginning of the series he scored 4 goals.
The Stars are looking to repeat what happened in the 1st round against the Wild. They lost game 1 in overtime at home and were down 2-1 in the series but won the next 3 which is what has happened here if the Stars can win this game.
The Kraken have been amazing and have goals from 18 different players. The find a way to stay in games. But the Stars have now scored 11 times over the last 2 games and with the top line rolling its going to be hard to stop them. I picked the Stars in 6 so I have to follow that.
Stars win in regulation
Ontario: 2.00 Odds at Sports Interaction (SIA) - Non-Ontario bet $10 get $200
Canada: 2.00 Odds at Sports Interaction (SIA) - Non-Ontario bet $10 get $200
USA: +100 Odds at Bovada
Everyone Else: 2.00 Odds at Sports Interaction (SIA) - Non-Ontario bet $10 get $200
(Odds correct as of 2023/05/13 6:29:56 AM EST but are subject to change.)
Graeme: Betting wise, I'm not really interested in picking a side. We backed Stars -1.5 for the series before the series began, so I might as well ride that out.
As it is – I'd still stick with my theory with betting on games involving the Kraken. Take the plus odds. In this case, it would be 2.45. But as I said last game, the metrics say to take the Stars and surprise – nothing has really changed there.
Honestly, I could just end this here and go with my Highest Scoring Period = 2nd bet. The odds are pretty much the same, and the last game just added to the data so it makes sense to bet that again if looking for action.
But I thought as I mentioned the Kraken at plus odds, I should at least see if there is anything in their home performances to warrant it, other than the pure gamble factor.
Looking at the entire playoffs as a whole here in 5 vs 5. Results wise, Kraken have performed better on the road but scored less. Actual better corsi & fenwick records on the road, although xGF is higher at home. Overall, they create more chances at home but lack of conversion is hurting them. Despite all that, their offense is still overperforming. Actually, a lot better on the road (2.79 GF with a 2.14 xGF) compared to home of 3.08 GF with 2.96 xGF.
But what about the Stars? Corsi & Fenwick metrics home/road are pretty much the same. More goals scored at home, more chances created too. On the road, a brutal GA/60 of 3.07 compared to 2.26. Two key games rive that up of course – Game 3 against the Wild and Game 3 against the Kraken.
But the Stars overall offensive metrics drop on the road as well. While based on this data, it looks like the Kraken are good for 3 goals.
Just based purely on playoff metrics in a vaccuum, I think I'd personally price the Kraken at 2.20 myself. So if you're taking them tonight, I think there's definite value there.
In saying that, I'm going back to the well with Highest Scoring Period = 2nd. A quick note that it actually jumped in odds closer to game time. I predicted it here at 3.80 odds early Thursday morning. I noticed an hour before gametime it had jumped to 4.00. So might be worth monitoring that in case some extra value comes in. And actually it was 3.75 when I started writing the tips about an hour or so ago, and already moved to 3.80.
If you want to know why I'm taking that, refer back to my previous post on this series. It's a high variance play and I'd file it more under a trend than an actual data pick, but man did it make for a great sweat in Game 5, and I'm hoping for the same here.
Ontario: 3.80 Odds at Bet365 (Americans: We recommend http://www.bovada.lv
Canada: 3.80 Odds at Bet365 (Americans: We recommend http://www.bovada.lv
USA: +245 Odds at Bovada
Everyone Else: 3.80 Odds at Bet365 (Americans: We recommend http://www.bovada.lv
(Odds correct as of 2023/05/13 6:29:56 AM EST but are subject to change.)
Follow @BetNHL
BetNHL.ca » Tonights Tips »