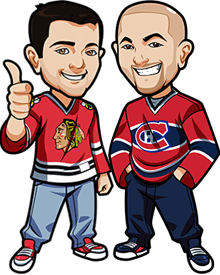 Written by Graeme & Scott on Sunday, May 14th, 2017
Follow @BetNHL
Game 1 of both Conference Finals is over with and it was the road teams that came away with the victory both times. Both games went to overtime.
The Predators defeated the Ducks 3-2 on Friday thanks to an overtime goal by Neal. And the Ottawa Senators continue to surprise and impress with Bobby Ryan getting a crucial overtime goal last night. It was a tight 2-1 victory and that one promises to be an interesting series.
We move onto tonight.
The Nashville Predators will be on the road again in Anaheim, looking for a big win over the Ducks.
The Ducks will need a better performance than last time. The Predators came to play and dominated them on the shot charts. Will be interesting to see what happens tonight.
Quick note that the WNBA season has begun, and Graeme has gotten off to a 2-0 start with his betting tips. You can check them out and subscribe for free at WNBATips.com.
Alright on with tonights:
Ducks vs Predators Game 2 Betting Tips:
Scott: Game one was a great game.
The Ducks scored first, the Preds answered.  The Preds scored next, the Ducks answered.  The game needed OT and the Predators came away with the huge game 1 road victory.  With the win the Preds are now 9-2 in this year's playoffs.  Just incredible considering that they are a wildcard team.
The Ducks played a solid game but they now have a better idea of what they are up against.  I picked the Preds to win this series in 6 games and I still like that pick.
I like the Ducks to bounce back and even the series in this one before the series moves to Nashville for a couple games.  If not than they face going down 2-0 and head to Nashville where the Preds haven't lost during the postseason.
Ducks win incl OT/SO 
Graeme: I'm hoping to place a bet on the Over on saves that Rinne makes.
I have to see the line first however and it's not up yet.
It's Mothers Day here in Canada so it's possible I won't be back at the computer so I figure I'll get the tips posted just now and edit it in after if I have a chance.
So no bet for me just yet but likely taking the saves by Rinne. Just have to wait to see the line and then I'll fully analyze it.
Bet available at Bovada. for Americans and [geocode id=5 for Canadians.
Follow @BetNHL
BetNHL.ca » Tonights Tips »