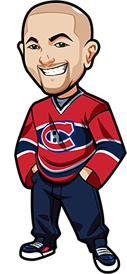 Written by Graeme on Thursday, May 14th, 2020
Follow @BetNHL
Wee bit late with this today – my apologies.
Was tempting to skip but I still want to cover UFC this weekend, and we've got the Bundesliga back on Saturday so I wanted to cover those tomorrow.
It's funny with sports off I was kinda excited about how I'd spend my time. I usually watch so much sports and I was pretty pumped to get into all these TV shows and watch movies that I've heard about but are always on a list to get to at some other time.
However I've ended up spending the majority of my spare time reading. I'm a big reader as it is and now even moreso – flying through a book a day at the moment.
Wanted to give special mention to a book here before I get into the UFC bets – Replay by Ken Grimwood. One of the best books I've read.
It's about a guy, Jeff, in his 40s in the late 80s. Married, works in an office. However he has a heart attack and dies. Then he awakens…and it's 1963, and he's back to being 18 and is in college.
So he gets to replay his life all over again. And the best thing is the first thing he does is go and bet on the Kentucky Derby. And of course wins it with the 10-1 shot as he had lived through it. Soon as that happened I knew the book would appeal to me.
However Jeff discovers that as he gets to the day he died previously…..he dies again, and has to replay his life again. And again. And again.
Anyway I don't like to talk too much about it due to spoilers but yeah – Replay by Ken Grimwood. An absolutely amazing book and well worth getting.
Right so UFC. Saturdays show I talked about. It was great. Wednesdays show was a bit meh. If I wasn't watching AEW Dynamite at the same time I would have turned it off probably. I kind of wish I had. I didn't really need to see that sort of beating in the main event. Absolutely brutal.
Cornermen need to step up and start being more liberal with that towel.
Anyhoo UFC is this weekend and it's got Overeem vs Walt Harris. Walt Harris comes into it with a hell of a back story as his step daughter had went missing and was kidnapped and murderered. Who isn't rooting for him this week?
Well me. Sorta. That's my first bet. Overeem to win at 2.37 odds. Hope I'm wrong. I really do. However I mean when it's two big boys like this I always lean towards the underdog. Overeem I don't know if I'd say is done yet – we'll get a better idea from this fight. Boy I hope I am wrong though as Harris needs this win.
I'm also backing Dan Ige. Think the weight drop will be too tough for Barboza. Ige is a tough fighter and as a slight underdog at 2.13 I think is the worth the play.
Small play on the underdog Angela Hill. Gadelha coming in after not fighting for awhile and Hill has that rare ability to TKO people in the womens division. I dig her.
Finally a small bet on Cortney Casey who I just feel is a better fighter than Borella and will take it.
Follow @BetNHL
BetNHL.ca » Tonights Tips »