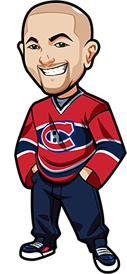 Written by Graeme on Sunday, May 14th, 2023
Follow @BetNHL
Well hopefully after my write-up yesterday, some of you took the +EV pick on the Seattle Kraken, as they got a nice convincing win over the Dallas Stars.
Alas I did not. I went for the highest scoring period being the 2nd as mentioned. All three periods had three goals, and unfortunately as the sportsbook has a "Tie" option this meant no push – it was a loss. But hey I got 40 minutes of entertainment out of it.
In hindsight, I probably should have bet the Kraken to hedge my Stars -1.5 series bet, and guarantee a small profit. Just wasn't thinking about that yesterday, bleh.
We've got Oilers vs Knights today and could see the Edmonton Oilers eliminated.
Oilers vs Knights Game 6 Betting Tips:
Scott: The Knights were down 2-1 after the 1st but had a strong 2nd where they scored 3 goals in 89 seconds to take the 4-2 lead. McDavid scored in the 3rd but the Knights came away 4-3 winners.
They have traded wins up to this point and with game 6 in Edmonton I like the Oilers to come out and force a game 7. They should take a chance on Campbell in this game as Skinner was pulled in the last game and Campbell stopped all the shots he faced. But Skinner has gotten them to this point so either way I still like them to win.
Oilers win in regulation
Ontario: 1.86 Odds at Bet365 (Americans: We recommend http://www.bovada.lv
Canada: 1.86 Odds at Bet365 (Americans: We recommend http://www.bovada.lv
USA: -125 Odds at Bovada
Everyone Else: 1.86 Odds at Bet365 (Americans: We recommend http://www.bovada.lv
(Odds correct as of 2023/05/14 8:25:17 AM EST but are subject to change.)
Graeme: Should be a feisty game tonight with Piets back.
As I've said by the metrics, Knights are a lot better in 5 vs 5. Saw a good thread on how Eichel factors in to that.
Thing is the actual advanced metrics are balancing out more and Knights aren't looking as hot in 5 vs 5 as they should. It's more just the Oilers aren't scoring goals in 5 vs 5. So they have to really figure out why as their chance creation is fine – a bit low but still fine.
You factor in all metrics and its actually quite close.
Then you have the Oilers goalie situation.
I wanted to take the Knights here honestly, with the caveat "if Skinner is in net". But just looking at the offensive production from the Oilers at home vs on the road, it's enough to put me off. Their offense has been producing a lot better here in the playoffs in 5 vs 5 situations. I can't bet against that offense.
A no bet for me. With how the Oilers can perform offensively, I don't even know if the Knights are an +EV play like the Kraken were yesterday. Just looking at it, it's way too high into gamble territory for me.
Follow @BetNHL
BetNHL.ca » Tonights Tips »