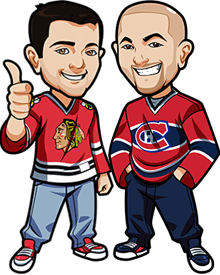 Written by Graeme & Scott on Monday, May 15th, 2017
Follow @BetNHL
In a great match-up last night, the Ducks made it 1-1 in the series with a 5-3 victory over the Predators.
Many thought that goalies would be a big factor in this series but it wasn't last night as both Rinne and Gibson took the night off. It was an 8 goal thriller and we're looking forward to similar games from those two.
They head to Nashville tomorrow night.
We turn our attention to tonight now. After a shock win by the Senators in Game 1, the Penguins will hope to go to Ottawa with a 1-1 series tie.
The last game went to overtime. In game 1 despite being on the road, the Senators actually outshot the Penguins. That win makes them 6-1 in overtime in the post season.
Heres our thoughts:
Penguins vs Senators Game 2 Betting Tips:
Scott: Game one was incredible.  The Sens were up 1-0 after the first period and held that lead until less than 5 minutes left in the game Malkin scored to tie it up and force OT.  Bobby Ryan came through for the Sens as he scored 5 minutes into the first OT.
The Penguins will surely be up and ready for this game.  The are the favorites to win the cup and now face heading back to Ottawa down 2-0.  This is the first time they have been down in a series in this year's playoffs.  I really like their chances in this game and I personally think they get it done without needing extra time.
Penguins win in regulation
Graeme: Despite my whole "I'm not going to bet on the Sens" deal I woke up today thinking I'd have to go with the Penguins to win in regulation. We know what they're capable of, and this is a massive game for them.
However I've changed my mind.
There have been so many times in the playoffs where I have a similar thought about the Senators opposition and the Sens end up with the win.
I also had a chance to catch up on the post-game media and I'm a little bit disappointed by what I heard coming out of the Penguins camp. I mean it's hard to fully judge based on interviews but it just sounded like they're not taking the Senators seriously.
It's not enough for me to tip against them or anything….but it's enough to put me off from actually tipping them tonight.
No bet
Follow @BetNHL
BetNHL.ca » Tonights Tips »