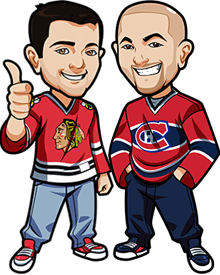 Written by Graeme & Scott on Tuesday, May 15th, 2018
Follow @BetNHL
After taking a thumping in Game 1, the Golden Knights responded with an excellent performance last night as they stopped the hot Winnipeg Jets offense and won the game 3-1.
They now take a 1-1 tie back to Vegas where they hope to stop the infamous Jets bounce back. Should be a hell of a game and we can't wait to see all the theatrics the Knights perform for their home opener.
Tonight we turn our attention to the Washington vs Tampa series.
The Washington Capitals have surprised everyone by taking a two game lead with both wins in Tampa. They were heavy underdogs to win this series and are now roaring favourites.
Let's get to it:
Capitals vs Lightning Game 3 Betting Tips:
Scott: The Caps went into Tampa and won both games by a combined 10-4 score.  The Caps have been amazing since losing the first two games of round one against the Jackets and have gone 10-2 since.
The Lightning are a deep and experienced team so it's not over for them yet but it's going to be a tough task for them to get back into this and make a series of this.
With the way the first two games went for the Caps on the road I can't see them having a pisspoor effort in this game in from of their hometown fans.
Capitals win incl OT – 1u  
Graeme: I took the Caps to win this series but even I am surprised at how things are going so far.
I was hoping the Capitals would be bigger favourites for this one but they're floating at around 1.83 and the Lightning at 2.00. I was hoping to back Tampa easily enough at say 2.25 but this one has made me step back and really think.
Tampa were an excellent road team in the regular season. They won 1 and lost 1 against the Devils on the road, then won both games in Boston.
Caps won 2-1 in home games against the Penguins but lost 2 out of the 3 at home against the Blue Jackets so Caps having home ice isn't enough.
Honestly I think Tampa give the performance of their life here. Will it be enough? I'm not too sure but I can't count them out. Personally I really don't like a bet at these odds but I'll go with 0.5u on Tampa incl OT.
Follow @BetNHL
BetNHL.ca » Tonights Tips »