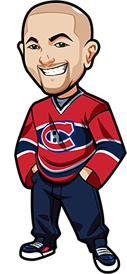 Written by Graeme on Friday, May 15th, 2020
Follow @BetNHL
I feel like a kid on Christmas.
Just the knowledge that this weekend there is going to be a bunch of football to watch. Football that I actually care about. I can't believe it. I must have spent a good couple of hours this morning just reading through all the games. Reading peoples previews, opinions etc – studying tactics used prior to the "break" and so on.
Man I can't wait.
On top of that our local coffee shop – which shut down mid-March; just re-opened 2 days ago. Only a takeout window – but it's so funny how just little normal things like that can really change your day around.
My routine every morning was basically wake up at 5am. Have my tea and my all bran, throw on any hockey games or extended highlights from the night before. Do my daily work like e-mails etc while getting caught up on hockey.
Coffee shop would open at 7am. Head there and get my coffee. Come back and spend the next hour or so drinking my coffee and going through the sports tips for that day.
And that little part of the routine is what I got to do today. Went and got my coffee now sitting studying Bundesliga. I love it. I'll just love it that much more when I get to study hockey tips again.
So I know we have some crossover. I posted two Bundesliga tips over at BetSoccer.ca. Those are Dortmund -1 on the Asian Handicap, and Frankfurt vs Monchengladbach to go over 2.5.
I'll do some different ones here though to mix it up. Plus I want to have bets going on every bloody game anyway.
March 16th, 2020 Bundesliga Bets:
So we'll do two bets. It's a bit tricky as you can imagine as it's tough to figure out not just how everything will be affected by the break, but also the lack of fans and if that will affect the home/away numbers much.
I'm going to go with RB Leipzig -1 at 1.83 odds to beat Freiburg meaning they have to win by at least two. 5 points behind Munich, Leipzig have a lot of motivation for this one. Freiburg are no pushover in 8th place although I'd say they are a bit fortunate to be there. I think Werner is going to have a field day out there. All eyes will be on him – especially the teams in the EPL looking to purchase him – and I think he is going to have a showcase of a game here.
I'm also going to take Hoffenheim to beat Hertha. Hoffenheim were on a brutal run but they've had the break to hopefully address that. It'll be interesting seeing if bad form will carry over or not. Hertha have Labbadia in charge for the first time to add to the mess of their season. I just feel despite their bad form going into the break, Hoffenheim are the better team and will do the business here. 2.10 odds for that.
Canada: Bet the Bundesliga at Sports Interaction (SIA).
USA: Bet the Bundesliga at Bovada.
Everyone Else: Bet the Bundesliga at Bet365 (Americans: We recommend http://www.bovada.lv.
Follow @BetNHL
BetNHL.ca » Tonights Tips »