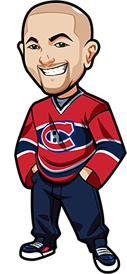 Written by Graeme on Monday, May 15th, 2023
Follow @BetNHL
The Edmonton Oilers have been eliminated from the NHL playoffs. Should have given Campbell a go. Despite his regular season struggles, he showed up during the playoffs when called upon.
Hopefully Skinner at least grows from that.
Tonight will see a Game 7 and a Game 1. The Stars host the Kraken in that big game 7, while the Canes host the Panthers in Game 1.
Here's our thoughts:
Stars vs Kraken Game 7 Betting Tips:
Scott: These Kraken have been playing some amazing hockey. You see what they have been doing in their 2nd year in the league and some would say it's luck or miracles but they are a legit team.
They took the defending Stanley Cup Champs, and Central Divison leading, Avalanche to 7 games and won and now they have the Stars, who finished 1 point behind the Avs, to another game 7.
The Stars are at home where they have gone 4-2, with one of the losses coming in overtime. Oettinger was pulled in game 6 so he has had some time to mentally prepare for this game.
As much as I want to tip the Stars, these Kraken are a tough team to beat. I would have to take the Stars in regulation which isn't a bad play as all games but game 1, which needed overtime, have been decided in regulation.
But I feel it best to just skip this game and enjoy watching what's sure to be a great game to watch.
No Bet although would lean towards a Stars regulation win.
Graeme: Eh I mean you know my thoughts just now in regard to taking whoever is a dog in Kraken games.
Last time I analyzed the home/road data so I'll have a look at that here.
5 vs 5 first, all playoff data. Kraken performing better in Corsi & Fenwick on the road. Scoring less though, creating less chances, and defensive metrics drop too. SCGF/60 is pretty similar but SCGA/60 is worse on road. Basically in 5 vs 5, they're going to concede more on the road.
Stars metrics are pretty consistent for Corsi & Fenwick. What's noticable is their defense steps up a lot more at home when it comes to xGA etc. Their offense also performs better. Puck luck is a bit higher at home compared to 0.961 on the road, suggesting their metrics should be better on the road.
Let's look at all situations. Krakens is pretty consistent there with 5 vs 5. Stars eek up a bit in regards to their offense at home, with a very respectable 3.41 SCGF/60 compared to 2.83 on the road. Some really nice defensive metrics too in there.
Basically, Stars are pretty good at home. Nothing mindblowing, but they do have the best ratio for goals scored at home versus all other teams, and 3rd best GA/60. They are scoring WAY above what they should, but 2nd lowest xGA/60. And interestingly, #1 for that is the Avs who also played the Kraken. Stars have best SCGF/SCGA stats at home.
In short – this is one situation where I would not bet the Kraken at those odds. It's the playoffs, it's Game 7, anything can happen.
I'm actually surprising myself with this one, but I'm going to go with Stars in Regulation. I honestly didn't expect that going in, especially as it goes against my general belief involving Kraken games, but looking at the metrics I quite like it.
Ontario: 1.80 Odds at Bet365 (Americans: We recommend http://www.bovada.lv
Canada: 1.80 Odds at Bet365 (Americans: We recommend http://www.bovada.lv
USA: -130 Odds at Bovada
Everyone Else: 1.80 Odds at Bet365 (Americans: We recommend http://www.bovada.lv
(Odds correct as of 2023/05/15 11:20:00 AM EST but are subject to change.)
Hurricanes vs Panthers Series Betting Tips:
Hurricanes vs Panthers
Scott: The Canes beat the Islanders in 6 games and the Devils in 5. They are lead by Aho with 10 points and 5 goals and Martinook who also has 10 points and has been crucial for them in the postseason. Andersen and Raanta have split starts with Andersen having better numbers.
The Panthers beat the Bruins in 7 games and the Leafs in 5. They are lead by Tkachuk who has 16 points and he does much more than put up points and Verhaeghe who has 12 points. Montour leads the team in goals with 6. Bobrovsky has been incredible and looks like his former Vezina winning self.
On paper it would seem like the Canes should win this series as they were 1st in the Metro but the Panthers have beat two strong teams to get here including the record setting Bruins and the 4th place overall Leafs.
I've bet against them the whole time but I think it's time I take them for real. They played 3 times this season with the Canes winning twice. Both teams had a shutout though so it was close.
Panthers win the series
Ontario: 2.10 Odds at Sports Interaction (SIA) - Non-Ontario bet $10 get $200
Canada: 2.10 Odds at Sports Interaction (SIA) - Non-Ontario bet $10 get $200
USA: +112 Odds at BetOnline.
Everyone Else: 2.12 Odds at BetOnline.
(Odds correct as of 2023/05/15 11:20:00 AM EST but are subject to change.)
Graeme: Okay metrics time.
Let's look at regular season stats first and compare that to playoff metrics. In 5 vs 5, two of the top teams in Corsi offensive although Panthers dropped off in playoffs. Ditto for Fenwick, with the Panthers defensive metrics in both very poor.
Panthers offense performed better in goals scored, although Canes had the best xGF in 5 vs 5. Different in the playoffs with the Canes outdoing their xGF, while still having 2nd best (next to Oilers) xGF in 5 vs 5. Both quite close in SCGF/60 and it suggests there is more to come from this Canes offense.
In all situations during the regular season, Panthers had the best xGF in the league although Canes best xGA. That's not the same in the playoffs, suggesting the Panthers offense isn't performing at their best. Canes are not a great team to match up against in that regard, and when you look at some of these Panthers defensive metrics, it's quite surprising they got this far.
So at this point, it's looking like this is where the Panthers run ends. But let's look at the individual game metrics. That's where I was able to correctly predict the Panthers +1.5 against the Bruins.
They played three times, with the Hurricanes winning two of the battles. To be honest I'm going to through out that April 13th game and just focus on the other two.
Personally, not really seeing anything that will put me off the Hurricanes here. Panthers appeared quite fortunate in that November 9th game. It was a very evenly matched game overall, and a 50/50 battle. Panthers also got the empty net there.
Honestly here's the only real issue with the advanced metrics. When it comes to Carolina, they are really, really good at metrics, but it doesn't always translate to actual results. When I was first using advanced metrics 4 or 5 years ago, it was the case and I remember personally losing a bit of money betting on the Canes while I was still learning, and adjusting to things like that.
But I'm good to back Hurricanes to Win the Series. I don't feel it is overwhelming enough to back the handicap, but I'm fine with riding them.
Ontario: 1.76 Odds at Bet365 (Americans: We recommend http://www.bovada.lv
Canada: 1.76 Odds at Bet365 (Americans: We recommend http://www.bovada.lv
USA: -130 Odds at Bovada
Everyone Else: 1.76 Odds at Bet365 (Americans: We recommend http://www.bovada.lv
(Odds correct as of 2023/05/15 11:20:00 AM EST but are subject to change.)
Follow @BetNHL
BetNHL.ca » Tonights Tips »