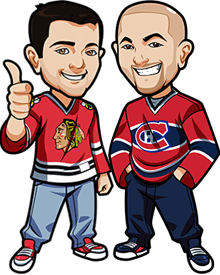 Written by Graeme & Scott on Thursday, May 16th, 2019
Follow @BetNHL
What a freaking game that was last night beween the Blues and the Sharks!
That's the sort of thing we always want to see from playoff hockey.
It helped that both our bets/tips came in, but really that's secondary to just exciting games like that. How about those Blues – able to score 4 goals in one period and then nothing else the rest of the game.
A lot of controversy over the final goal as there should be. That was a fun as hell game and it shouldn't be tainted by a miscall like that. Let's hope that during the Summer, the NHL revise a lot of their rules and their replay rules which are a mess.
We now head to Carolina for Game 4 of the Bruins vs Hurricanes series. Are the Bruins going to sweep? Or do the Canes have it in them to drag this series out?
Bruins vs Hurricanes Game 4 Betting Tips:
Graeme: The Bruins need just one more win and it's highly possible they get it tonight. The Hurricanes – everything that could go wrong this playoffs is. It's just not their year.
In saying that – you never know when a game can go right for them. Their offense really should have taken Game 3. Like I said yesterday yeah Rask did a great job but the Canes offense missed quite a few chances that any other night would have been a goal.
I do think Bruins will win but man I can't count out those Canes. No Bet
Scott: Wow. The Bruins have grabbed hold of this series and it doesnt look like they are going to let go. Their powerplay has been incredible and their penalty killing was perfect in game 3 killing off all 5 of the Hurricanes powerplays.
I had thought the Canes would win at least one game possibly two but with the way the Bruins have played I'm not sure anymore.
I wanted to say the Canes would win this game and force a game 5 back in Boston but again with the Bruins results during the first 3 games I am going to avoid a tip for this one.
No Bet
Follow @BetNHL
BetNHL.ca » Tonights Tips »