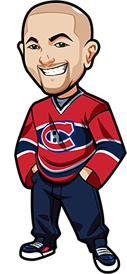 Written by Graeme on Saturday, May 16th, 2020
Follow @BetNHL
Welcome to Saturday, May 16th.
Looking back at least years NHL, it was Bruins vs Hurricanes Game 4. That was a game where we both went with no bet. Bruins ended up winning that one to sweep the Canes.
I actually had an idea here that every day we would look back at previous years tips for that day. But man it just got sad looking back at playoff results and thinking how we should be right in the thick of it right now.
I hope that if hockey does come back to play out the season – they just go insane and balls to the wall. Just cram so many hockey games into one day. Hell if we're on a time crunch do a bunch of 3 vs 3 10 minute period games or something.
You can tell NHL.com are really struggling for content right now. They're onto "Who wore a number best?". Man I wonder who wore 99 best? That's going to be a tough one. Can't wait to watch an hour discussion on that.
Although there is some interesting ones for sure. Roenick vs McDavid at 97 for example. However it seems to favour current players. For example number 95 went to Duchene over Morozov. One of their reasonings is "Duchene has some great years ahead of him". Does he? What if he breaks his leg? Either way if you're looking to get into some fun discussion with friends, it's a good list to bring up and go through.
I'm looking forward to the Driving Relief Skins tomorrow with Fowler and Wolff vs Johnson and McIlroy. That should be fun. Alas not really worth betting but DJ and Rory are 1.50 odds and I'm probably going to bet that regardless. Rory has cost me multiple times in the years with a late choke that's resulted in him being 2nd so I'd love one more reason to rant about him.
Good day of sports today. Bundesliga action going on soon after I finish writing this. UFC tonight. I'd love to do hockey tips as there is that Comet Division Short Hockey 3×10 Mins but it just seems like such a crapshoot. You're basically betting on over/under 9 or 10 goals. I've been studying that a fair bit and I find it very high variance.
I'll cover one of the Bundesliga games tomorrow – I always like to get tips in a day in advance if possible. I also except Munich to absolutely batter Union Berlin
Cologne vs Mainz Betting Tips:
Before the break Cologne were playing quite well and were in 10th place. Mainz had some struggles and although their incoming form doesn't look too bad, there are wins over Paderborn and Hertha Berlin in there who are relegation battlers.
Cologne are just the better team. Offensively they are better and Mainz defensively are a mess.
Cologne are a nice physical team too and I think they'll be the better conditioned team. Leistner will probably be bloody lethal in this one when it comes to set pieces.
I think the physicality and finishing of Cologne will be too much for them, and am taking Cologne to win at 1.90 odds.
Follow @BetNHL
BetNHL.ca » Tonights Tips »