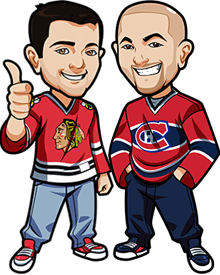 Written by Graeme & Scott on Monday, May 17th, 2021
Follow @BetNHL
We are four games into the NHL playoffs, and they have been super tight ones so far!
Four close games. Three of them went to overtime, yet the best game so far was probably the one that didn't go to overtime with Tampa vs Florida.
It's been a lot of fun, and just what the playoffs need. Let's hope for more intense action going forward.
Today we'll cover Bruins vs Capitals Game 2. We've also got Game 1 in the Predators vs Hurricanes and Blues vs Avalanche series so let's get to all of that.
As a note going forward – each game pick we don't consider our series picks at all as it isn't fair to those who didn't follow our series picks.
Bruins vs Capitals Game 2 Betting Tips:
Scott: Game 1 was a good close one.  The Capitals won even though their starter had to leave with an injury.
The Capitals are starting Craig Anderson after he came in and won after Vanecek left.   The Bruins need to win this game with both Capitals goalies hurt.  Nothing against Anderson but he isn't as good as either Vanecek or Samsonov and the Bruins need to take advantage of this.
I expect them to have a better effort here and win game 2.  They will need to take more shots on Anderson after he only faced 22 in game 1.
Bruins win incl OT if Anderson in net
Graeme: This is one where I am very conflicted on. On one hand, my initial thought process from my analysis of this series was to always back the underdog. I felt it was a very 50/50 type series. Game 1 just added to that. So I was hoping that it would be an easy series for me where I blindly back the dog.
Yet it also seems like one of those series where we see the teams trade wins. When I watched Game 1 I didn't feel the Caps won it – I more felt that the Bruins lost it. It was a poor game from them.
It's possible Anderson is still in net tonight. Either way – I do think we see a lot better Bruins tonight, and hopefully that leads them to the win to tie up the series. But I wouldn't fault you for taking the Capitals as underdogs.
Bruins to win incl OT
Canada: 1.77 Odds at BetOnline..
USA: -129 Odds at BetOnline..
Everyone Else: 1.77 Odds at BetOnline..
(Odds correct as of 2021/05/17 9:00:27 AM EST but are subject to change.)
Hurricanes vs Predators Series Prediction Betting Tips:
Scott: It's hard to bet against the Hurricanes this year.  They won the Central Divison with 80 points and are taking on a Predators team who finished with 64 points.
The Canes beat the Preds in the first 6 meetings of the season but the Predators won the final 2.  The losses were after the Canes had already won the Central so not sure if they just put it in cruise control or not.
I'll give the Preds one win but the Canes are really good and could go deep in these playoffs.
Canes win in 5 games
Based on that and the odds, the best play would be Canes -2.5.
Canada: 2.77 Odds at Sports Interaction (SIA) + free $20 bet.
USA: +165 Odds at Bovada.
Everyone Else: 2.77 Odds at Casumo
(Odds correct as of 2021/05/17 9:00:27 AM EST but are subject to change.)
Graeme: A rare season for the Hurricanes where they weren't top of all the advanced metrics. They were lower defensively, and only around top 5 in the offensive advanced metrics.
What was even more interesting is that forgetting about the two May games – I've kind of written off that month in terms of team performances – Canes beat them in all 6 games but by the advanced metrics, certainly didn't deserve to.
Plus those two May games may give the Preds some confidence and should come in playing a lot better as they are more in the playoff zone. Canes didn't mentally look there in the last week or so of the season.
Basically – there is enough here for me to think an upset could happen. Unfortunately, I am just not a fan of the odds. As it would honestly be a huge upset, and the best odds I see are 3.33. That's not enough. Like if it was 4.00? Maybe. 5.00? Yes that's more my liking.
So this is a series I'm personally staying away from. There are no odds to justify a bet for me. Basically I think the Preds can pull off what would be considered a massive upset – but the odds don't reflect that.
But if you want a play, I guess Preds +1.5 is the best one in that regard? I dunno I'd still prefer better odds for that.
Best odds for Preds +1.5 are:
Canada: 2.14 Odds at BetOnline..
USA: +114 Odds at BetOnline..
Everyone Else: 2.14 Odds at BetOnline..
(Odds correct as of 2021/05/17 9:00:27 AM EST but are subject to change.)
Avalanche vs Blues Series Prediction Betting Tips:
Scott: The Avalanche won their last game of the season and doing so gave them top spot in the West Divison and the entire league.
You don't win a Presidents Trophy without being a strong team and the Avs are exactly that.  MacKinnon, Rantanen and Landeskog are amazing and carry the team offensively.  On defense they have Makar, Toews and Girard.  Only question I have is if Grubauer doesn't play will Dubnyk be a capable goalie for them?
The Blues didn't have the strongest year but they have the players to do damage.  They are only 2 years removed from winning the Stanley Cup so that will better prepare them for whats coming.
I can't see the Blues winning this series but I see it being close one with the Blues winning a couple.  The Avs won 5 of the 8 games between them during the regular season.
Avalanche in 6
Graeme: During the games yesterday, we were chatting about who we thought could go all the way. For me, it was the Colorado Avalanche.
They were the best team by almost every advanced metric overall this season.. I think back to that period mid-March right up until COVID caused them to take a break. They were absolutely immense and generally unstoppable. If they can recapture that sort of form you can hand them the cup right now.
So that's the question – if the Avs can get that going again. Avs dominated them by the advanced metrics in matchups but Blues still picked up a couple of wins. I agree with Scott that I think the Blues can peel a win or two off here.
I'd also say Avs in 6.
Alas, Blues +2.5 or Avs -1.5 are both at unbettable odds for us. So therefore, there really isn't a pick to be made. If you want a flutter, as we both think Avs win it in 6(Blues +2.5 is probably the closest), you could bet on Avs correct score win 4-2.
Here are the best odds for that:
Canada: 5.03 Odds at Sports Interaction (SIA) + free $20 bet.
USA: +400 Odds at Bovada.
Everyone Else: 4.25 Odds at Bet365 (Americans: We recommend http://www.bovada.lv.
(Odds correct as of 2021/05/17 9:00:27 AM EST but are subject to change.)
Follow @BetNHL
BetNHL.ca » Tonights Tips »