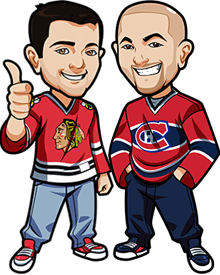 Written by Graeme & Scott on Friday, May 19th, 2017
Follow @BetNHL
It was quite the crazy game last night as the Ducks tied up the series 2-2.
They went up 2-0 halfway through the game. The Predators made a late comeback however to force overtime but the Ducks prevailed and won.
Honestly that was a big, big win for the Ducks. Generally when a team comes back like that they're more likely to win in overtime. They have the momentum.
So for the Ducks to pick themselves up like that – very impressive.
We turn our attention to tonights game as the Pittsburgh Penguins host the Ottawa Senators.
Pens fans will be hoping for a slightly better performance than last time we expect.
Looks like Murray is in net.
Penguins vs Senators Game 4 Betting Tips:
Scott: The Sens had a great start in the last game scoring 4 times in the 1st period and held on for the 5-1 win.  Anderson has been good so far for the Sens allowing only 3 goals in the 3 games of this series.
Pens coach Mike Sullivan has the luxury of having 2 number goalies in Fleury and Murray.  So although he hasn't said who is starting yet, he has 2 very capable options.
The Penguins are dealing with injuries to their defense but something seems off with Crosby.  Maybe he was rushed back after that concussion and we won't know anything until after the playoffs but he doesn't seem like himself.
As much as I want the Sens to win this game and the series you can't count out the Penguins.  Yes they has a bad game in game 3 but that may be the motivation they need to get back on track.
Penguins win incl OT/SO
Graeme: I'm very surprised that they're going with Murray I have to say. Sucks for Fleury but hey – least he'll enjoy Vegas next year.
Initially I was thinking about the over. However Murray is a quality goalie and with a change like this you'd think the team will be doing everything they can to get a big win here.
However you look back at Murrays performances since say mid-February and man not that impressive. A few good performances but also a ton of leaky games.
I've gotta go with No Bet on this one. If I was betting the Penguins I think I'd be relying purely on Murray. They didn't pick themselves up in the last two periods of Game 3 so they showed nothing to suggest they have what it takes.
Follow @BetNHL
BetNHL.ca » Tonights Tips »