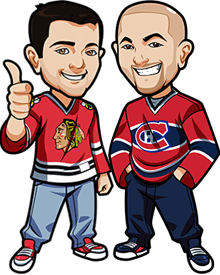 Written by Graeme & Scott on Wednesday, May 19th, 2021
Follow @BetNHL
A fun night of NHL playoffs, with all three favourites winning.
Our consensus picks also went 2-0 which was a nice little bonus!
We had the Penguins to right their wrong and defeat the Islanders. Despite a tight scoreline it was a very offensive focused game with a ton of shots. Both goalies stood up strong but the Penguins came away with the 2-1 victory.
We also had the Knights to get back on track with a regulation victory against Minnesota. They were able to do so in a 3-1 win.
Tampa now lead the Panthers 2-0 and Florida will have to win Game 3 if they hope to have any chance. Panthers played well but it looked like they were aw bit shy in front of goal and didn't take the chances.
For Wednesday, May 19th it's a busy night. We've got a Game 3, couple of Game 2s, and of course a Game 1. Let's tackle them all.
Oilers vs Jets Series Betting Tips:
Scott: Much like the Leafs, the Oilers are stacked on offense.  McDavid is in a league of his own.  Draisaitl is amazing.  Nuggent-Hopkins and Puljujarvi give them depth.  Their defense is solid too.  In goal they are fine with Smith having a great year and Koskinen a great backup.
The Jets have a good team with Scheifele, Connor, Ehlers and Wheeler doing the heavy lifting on offense.  Hellebuyck has another strong year.
I just cant see the Oilers losing this series.  If their goaltending can hold up then they have to be one the favorites to win the Cup
Oilers win in 5 games.
Graeme: Oilers are one of those teams I just hate backing. So much quality and they've let me down so many times. There's a part of me wondering if the McDavid points charge will end up causing them to let everyone down come the playoffs. Like they've already accomplished that so hey not much else to do.
It will not surprise me in the least to see a complacent Oilers show up once or twice during this series.
Oilers were the better team by the advanced metrics and it just looks like over 7 games, they can take the win.
I think Oilers in 6.
Based on all of that, the best bet is Oilers -1.5 for the series.
Canada: 2.10 Odds at Bet365.
USA: +105 Odds at Bovada.
Everyone Else: 2.10 Odds at Bet365.
(Odds correct as of 2021/05/19 10:48:13 AM EST but are subject to change.)
Bruins vs Capitals Game 3 Betting Tips:
Scott: This has been a good and close series with both games needing overtime.
With the series moving to Boston I like their chances in this game.  But with both games being so close so far I don't feel comfortable taking either team in regulation or with the spread.
With both teams looking to take the lead in the series this should be a good game.  Game 1 stayed under hitting 5 goals but game 2 went over hitting 7.  With the teams getting more familiar with each other I expect another high scoring game.
Over 5.5 incl OT
Canada: 2.09 Odds at BetOnline.
USA: +109 Odds at BetOnline.
Everyone Else: 2.09 Odds at BetOnline.
(Odds correct as of 2021/05/19 10:48:13 AM EST but are subject to change.)
Graeme: Last time I said that I wanted to back the underdogs in this series each game, but I liked the Bruins to get back on track. They were able to do so.
Now the Capitals are fairly big underdogs. Having studied the advanced metrics for the matchups between the teams, I feel like they're an +EV bet at this price. It wasn't like the Bruins completely dominated or anything either.
Anderson didn't do too bad I thought and if he is in net tonight so be it. It does look like some Caps players are a bit beat up which may affect them.
I think the Bruins should deservedly be the favourites but just not at this price.
Capitals to win incl OT
Canada: 2.55 Odds at Bet365.
USA: +154 Odds at BetOnline.
Everyone Else: 2.55 Odds at Bet365.
(Odds correct as of 2021/05/19 10:48:13 AM EST but are subject to change.)
Hurricanes vs Predators Game 2 Betting Tips:
Scott: Game one was a statement game from the Hurricanes especially in the 3rd period where they scored 3 unanswered.
There was 12,000 people at the game and the Canes really fed off of the emotions of playing in front of their home crowd.
After game 1 I have no reason not to back the Canes.
Canes in regulation
Canada: 1.86 Odds at Bet365.
USA: -120 Odds at Bovada.
Everyone Else: 1.86 Odds at Bet365.
(Odds correct as of 2021/05/19 10:48:13 AM EST but are subject to change.)
Graeme: Canes got a big win in Game 1 with a big third period. This was unlike previous Canes/Preds games as Canes were just incredibly dominant. They weren't that dominant in previous games against the Preds.
So it was a big opening game – can they follow up? I'm not sure. If you ignore Game 1 and look at the matchups between the teams during the regular season then the Preds are solid value. If you include Game 1 – then you gotta hope it was a big hype game for the Canes and that this ends up being a letdown spot.
There's not enough for me to advise it there though. No Bet on this one. I'm probably hoping for another big game from the Canes so I can back the Preds Game 3 for some value. I'm just not fully convinced about the Canes yet from looking at those regular season matchups. I am likely overthinking that though and based on Game 1, Scotts bet is fine. I'll probably end up throwing something on it.
Avalanche vs Blues Game 2 Betting Tips:
Scott: Landeskog had a game.  The captain had a Gordie Howe hat trick, MacKinnon had 2 goals and an assist and Grubauer made some big saves.  If they continue to play like this then they are going to have a deep postseason.
Binnington played well for the Blues making 46 saves but the Avs just were relentless outshooting the Blues 50-23.
I like the Avalanche to win this game but even taking them in regulation are terrible odds.  I do expect the Blues to be more competitive in this game but still come up short in the end.
No Tip
Graeme: An excellent win for the Avs, and an incredibly dominant one. This is the type of form that has me tipping them for the cup, and I'm happy to see it.
They are unbettable unless we go with -1.5. If we look at empty net stats, Blues are one of the most successful teams in the league while playing with an empty net., The Avs playing against an empty net generally not too bad – scored 9 in 28.
Basically if the Avs -1.5 was over 2.00 I'd take it. Alas it is not, so I will join Scott in No Bet.
Follow @BetNHL
Best America Sportsbooks for NHL
BetNHL.ca » Tonights Tips » May 19th, 2021 NHL Betting Tips