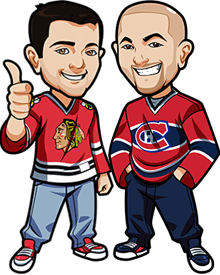 Written by Graeme & Scott on Wednesday, May 1st, 2013
Follow @BetNHL
WOW!! What a great night of hockey and that's why this is the best sport in the world. Some very close games all across the board highlighted by some outstanding performances by all the goalies last night. The Hawks won 2-1 in OT and it was the same result for the Blues over the Kings 2-1 in OT on two goals by Alex Steen. The Ducks won 3-1 with the last goal coming with 23 second left in the game.
Last night we started our live betting tips. We tipped the Ducks to score the second goal when tied 1-1 at 1.90 odds in their 3-1 win. We tipped the Chicago Blackhawks to win the "Race to 2 goals" at 2.6 odds when they were down 1-0, and we also tipped the Blues to score the 2nd goal at 2.05 odds when they were up 1-0. How that Blues bet didn't win I just don't know – Quick should change his name to Sick after that performance last night.
Don't forget to follow us on Facebook or Twitter for the live NHL Betting Tips. You can do so by clicking either of the below links:
Twitter: http://www.twitter.com/BetNHL
Facebook: http://www.facebook.com/BetNHL
So for tonight we have 3 new series getting under way. Islanders vs Penguins, Sharks vs Canucks and the one we are really looking forward to the Leafs vs Bruins. No matter what game you will be watching you're sure to be in for a treat. And after last nights action I have a feeling that tonight is going to be just as intense.
Lets make some money with our May 1st NHL Betting Tips
Leafs vs Bruins: Bruins To Score First
This is going to be a great fast and physical series and can't wait for it to start. I just hope it doesn't turn into a series about the Phil Kessel for the draft pick that turned into Tyler Seguin story. Lets just keep it to what it is going to be; Some fantastic hockey between between 2 original 6 franchises who have a history.
The Bruins are going to come out in their own barn and try and set the tone early so I expect them to score first. Place this bet at Bet365 (Americans: We recommend http://www.bovada.lv for 1.70 betting odds
Islanders vs Penguins: Goal Before 9:30 of the First
Both of these teams can score and do it with ease. I think that this game will be a high scoring one, maybe the highest of all the first round matchups. The Penguins are stacked and can now roll 4 lines who can score. But the Islanders have nothing to lose. They have to play the Pens and nobody is expecting them to win this series where the Penguins are going to have an incredible amount of pressure on them so this is going to work in the Isles favor.
Bet that a goal will be scored before 9:30 of the first at Bet365 (Americans: We recommend http://www.bovada.lv for 1.72 betting odds
Home Goals -1.5
Based on the fact that all 3 home teams won last night and the first game is always a coin toss due to playoff jitters we are going to bet that the home teams will score more goals than the away teams tonight. We are betting that the Bruins, Penguins and Canucks will outscore their opponents combined.
So with home ice advantage coming into play this should be a safe bet. Bet this at Bet365 (Americans: We recommend http://www.bovada.lv for 1.81 betting odds
Follow @BetNHL
BetNHL.ca » Tonights Tips »