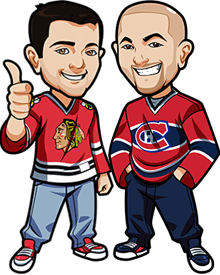 Written by Graeme & Scott on Monday, May 1st, 2017
There were two games yesterday and it resulted in both series in the West going to 2-1.
In the early game, the Nashville Predators beat the St. Louis Blues 3-1. It was a generally dominant performance from the Predators who look damn good. They work together so well and they're clicking at the perfect time. It's going to take a big performance from the Blues in Game 4.
The Anaheim Ducks came out fast and furious against the Edmonton Oilers, and ended up winning 6-3. It was a fun game although was a bit surprising that they didn't pull Talbot. Regardless of how the goals come in if you allow 3 goals in 5 shots you're usually going to get pulled.
We move onto tonight with just the one game.
The Washington Capitals visit Pittsburgh looking to redeem themselves. They're 2-0 down in the series with both those losses at home. They now have to go on the road and win in Pittsburgh.
Here's what we think:
Penguins vs Capitals Game 3 Betting Tips:
Graeme: The Capitals are yet to show in the playoffs that they have what it takes. They've had some good performances but at the end of the day they just aren't doing the business.
Could they turn it around tonight? Possibly. We've all watched the Capitals during the regular season – we know how damn good they can be.
However they struggled to ever contain a scrappy Leafs team and now they're playing an experienced and quality Penguins team who have a hot goalie.
Penguins won both road games and are now 1.84 odds at home. Capitals were unlucky really not to have a big 1st period against the Penguins. After being pulled you have to figure Holtby will be out to prove something. However he's been pulled before and he's never been able to come back and instantly step up so I don't put much stock in that.
End of the day I'm going to take the Penguins to win incl OT/SO. You win 2 on the road and are at home with those odds? Yep I'm all over that. We saw a similar situation last night but I don't know if the Caps have it in them to fight and fight like the Ducks.
Scott: Well the Penguins now have complete control on the series.  They're up 2-0 and are heading to Pittsburgh for games 3 and 4.
The Capitals need to win which is obvious but can they do it now?  My pick of Caps to win the series looks lost at the moment.
It looks as though the Penguins are going to win this series.  If and when they do they will have beaten out 2 of the top 4 teams of the regular season and their path to the finals seems easy.
I can't see the Penguins sweeping the series so I am going to go with the Capitals to win this game. 
Capitals win incl OT/SO for 2.05 odds
Best America Sportsbooks for NHL
BetNHL.ca » Tonights Tips » May 1st, 2017 NHL Betting Tips