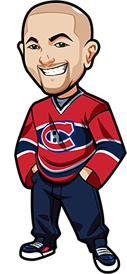 Written by Graeme on Friday, May 1st, 2020
Follow @BetNHL
Welcome to Friday, May 1st!
May 1st last year we were debating Hurricanes vs Islanders Game 3. This year we are…..tipping the likes of Broadway, video game simulations and Russian table tennis.
Sigh.
In saying that we both got it wrong. Mrazek was out and it was a great time for the Islanders to turn things around in that series. They were 2-0 down at the time and the Canes had to put McElhinney in net. They would've had more luck with a bloody Zamboni driver. As it is the Hurricanes offense stepped up, and they won 5-2 en route to a sweep of the Islanders.
Man I miss playoff hockey.
Although I must admit – I do enjoy a good sleep schedule. I'm someone who loves early nights and waking up early. During the regular season I'll watch the East Coast 7pm games, then fall asleep immediately after. I'll get up at 5am and watch the games that took place late that night (either in full or extended highlights versions).
All that goes out the window during NBA and NHL playoff time and honestly I hate it. I hate staying up late. I absolutely freaking groan at those games that go into OT or double OT etc etc. But hey its playoffs no way am I going to bed and missing ANY of that action live.
So that's at least one thing I appreciate right now – that I actually still have a regular bedtime. Alas that's about the only thing I appreciate.
I actually hope the NHL goes to a 48 game schedule for one season like they did during the lockout season. Growing up in Scotland on soccer, every single game counted or mattered. That's what the lockout season was like. American sports such as NBA, NHL and MLB aren't like that. You can lose 5 games in a row and it's no big deal.
So I much prefer it when games have meaning. It's why post all star break is generally my favourite time of the year for hockey – as so many games mean just a little bit more. While it will suck having less hockey – I'm quite excited at that prospect.
Alright anyway betting betting betting. First of all Belarus soccer tips posted over at BetSoccer.ca. Our favourite team, FC Slutsk, are currently the league leaders. Man I love it when Slutsk are on top.
Seems like destiny to stick with Belarus and do some hockey tips as they have the Belarus AHL taking place today.
Belarus AHL Betting Tips:
The one game takes place at 3pm EST. Keramin Minsk versus K-2 Energy. K-2 Energy are 1.25 favourites, with Keramin-Minsk at 6.50 underdogs. Over/under is set at 9.5. Must be Leafs goalies in net. K-2 Energy are -2.5 at 1.70 odds.
This is the Minsk Championship. These two teams played on April 29th and Minsk ran out 5-3 winners with it all kicking off in the third period.
Keramin Minsk have been struggling in recent games getting thrashed by a lot of teams other than that 10-2 game they won over Atlant Minsk.
I think while K-2 took a bit to get going last time, they will be better here and will take the win in a more dominant fashion. They're just the much better team.
I'm going with K-2 at -2.5 meaning they need to win by 3.
Bet placed at Bet365 (Americans: We recommend http://www.bovada.lv.
Follow @BetNHL
BetNHL.ca » Tonights Tips »