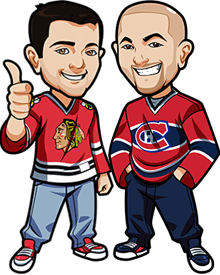 Written by Graeme & Scott on Monday, May 20th, 2013
Follow @BetNHL
Bad couple of day at the races on the weekend, as we went 1-2 yesterday. Our lone win was the Senators defeating the Penguins which they did after double overtime. Quite the game that was as Ottawa tied it up shorthanded with just 30 seconds left. Pittsburghs inability to wrap up some of these games throughout the playoffs, considering the team they have, is just mind blowing.
On Saturday the Red Wings came out with a vengeance. After losing 4-1 in Chicago in Game 1, they went out and destroyed the Blackhawks at 4-1. That was quite a shocker of a game – especially with the Blackhawks striking first blood.
Tonight, for Monday May 20th 2013 we have Game 3 in that series, as the only game of the night. The Blackhawks hit up Detroit for the next two games which is scary for Hawks fans – the possibility of going into Game 5 3-1 down is real.
Of course this isn't the first time Chicago have went to Detroit. In the regular season they visited there a couple of times, winning 2-1 in a shootout and 7-1 in a typical Blackhawks regular season outing.
But what about tonights game? We've believed in the Blackhawks since before the season even began, and we even tipped Blackhawks vs Penguins at +3300 odds before the 2013 season started. During the regular season the Blackhawks had blips like they did in Game 2, and they usually came firing back on all cylinders. Actually before the 7-1 thrashing of the Red Wings, they lost 2 nights prior to that to the Ducks at home.
Throughout the regular season, the Blackhawks never had back-to-back regulation time losses and we're going to ride our hat on that sick record continuing tonight. It's the playoffs and every game is huge – but we saw how Chicago bounced back after losing to Minnesota. They came out and completely dominated them in a 3-0 victory where they looked on a whole other level.
Chicago Blackhawks vs Detroit Red Wings Betting Tips
We're going to offer three betting tips that we would recommend. How many of them you want to bet is based on how well you think the Blackhawks can do tonight.
Best odds for all 3 are actually at Bet365 (Americans: We recommend http://www.bovada.lv.
Blackhawks To Win: Odds on this one are small at 1.70 odds, but still worth the bet for the reasons outlined above. There is some value there.
Blackhawks -1.5: The odds on this one are what make it tempting at 3.15. As we said above – we think there is a strong possibility that the Blackhawks will bounce back and dominate the Red Wings like they did in Game 1. And just like they did against Minnesota, we like the Blackhawks to come out strong and put the Red Wings in their place. Are they on the road? Yes. Did that matter during the regular season? Not at all. The Blackhawks have shown that being on the road just is not a factor for them.
Blackhawks to Score First Goal: Odds for this one are 1.8. This is a really nice price considering they are the favourites, and their ability to score goals.
Place all 3 at Bet365 (Americans: We recommend http://www.bovada.lv
Follow @BetNHL
BetNHL.ca » Tonights Tips »