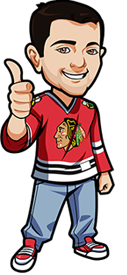 Written by Scott on Wednesday, May 20th, 2020
Follow @BetNHL
Sorry for not having any tips yesterday.
The NHL is still looking towards a 24 team playoff. And I'm sure when and if this happens there will be lots of people who aren't happy with that. But everyone in the world is going through the same thing. It's not the player or teams fault that they made the playoffs or won the Cup and it certainly isn't any player or teams fault that the world is going through a Pandemic. And I'm sure that there will be an asterisk assigned to who ever wins the Stanley Cup. But for some player this may be the only Cup they will win in their career and to tell that person that "Yes you won the Cup but it doesn't count because of a pandemic" just doesn't seem fair to the player, the team or the fans of the winning team.
And to be honest at this point I will take whatever I can get when it comes to some playoff hockey. Usually at this time of year we would be deep in the playoffs and would have plenty of stories and moments to discuss. But here we sit and watch games from 20 years ago.
Well my kids school has official been canceled for the year. So when and if they go back in September they will have had 6 months off. It's going to be strange for them and me. I normally don't get to see them except for Sunday's and Tuesday nights. I get to see them now everyday before work and it has been the only good thing to come from this situation for me personally. My youngest starts school next year too. So for the first time in 11 years I won't have a kid with me during the day. With the extra time I'll have to find a hobby. One things for sure, my lawn is going to look amazing in the summer and my driveway will be super plowed in the winter.
NHL Sims Betting Tips
You can watch the game at twitch.tv/livehockeysims
Islanders vs Rangers –These were always great games to watch.
The Islanders went 35-23-10 and are sitting in 9th place in the playoff hunt only 1 point behind the wild card spot. The Rangers are right behind them going 37-28-5 in 10th.
With the Rangers having a solid year despite the fact that they weren't expected to and being at home I'm going with them to win this one.
Rangers win incl OT/SO for EVEN odds at Bovada/Bodog
Follow @BetNHL
BetNHL.ca » Tonights Tips »