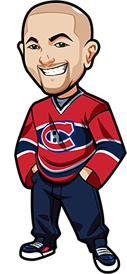 Written by Graeme on Saturday, May 20th, 2023
Follow @BetNHL
Both conference finals have led to overtime, which is great to see. That's what you want: two teams that are very competitive with each other, and it goes to the wire. Entertainment wise, hopefully we see more of that.
Although man – no 4OT please. Some of us actually like sleep.
Today will see the Carolina Hurricanes host the Florida Panthers in Game 2 of their series. Imagine being one of those poor Canes fans at that game 1?
Here are our thoughts on Game 2:
Hurricanes vs Panthers Game 2 Betting Tips:
Scott: Well if game 1 was any indication then we are in for a great series. It was the 6th longest game in NHL history.
The Canes scored first at the end of the 1st and the Panthers scored twice in the 2nd to take a 2-1 lead into the 3rd. The Canes tied it in the 3rd. Both Canes goals came on the powerplay. Tkachuk scored with 12.7 seconds left in the 4th overtime to win it for the Panthers.
This is the first time the Canes have been down in a series in these playoffs. The Panthers have won their 7th road game in a row.
After playing what amounted to over two games in game 1 these teams are going to be tired.
I would think that the Canes would bounce back and win game 2 but would need to take them in regulation and I can't do that after that epic game 1.
No Bet
Graeme: It's an interesting one to look at, as I'm not sure what angle to hit it from. Do you look at how previous games that have went to 3OT and above turned out in the following game? Do we look at Game 2s, how the Canes react to losses, or the home/road split?
BTW I want to mention the Hockey Tactics newsletter which is well worth paying to subscribe to. They release freebies, and here's a freebie talking about that Panthers goal.
Honestly – for this one, I'm not going to think too hard. I like the Hurricanes, I think they were the better team. But I'm concerned with how that quadruple OT will wear on a team. Especially the goalies.
I have a slight lean on the Canes, but not enough to back them. With the pressure game they play, fatigue could be a factor there.
However in saying that – I dived into some metrics involving how teams perform on back to backs, versus a break. Sure this isn't a back to back, but it might as well be. And the Panthers actually have pretty darn bad stats compared to rest. This is a team that needs rest, while the Canes thrive on them.
So hey ya know what? It's the conference finals and bets are going to be hard to come by. I'm going to live a little and relax my generally strict betting requirements. I'm not even going to make this goalie dependent or anything like that.
So I'm going to take the Canes. But I'm going to be a tad restrictive here due to the odds. I'm going with Hurricanes Win in Regulation – Draw No Bet meaning it's a push if it goes to OT.
This is pretty much ignoring everything else, and focusing on how teams perform with fatigue. Which hey – who even knows how much of a factor that will be.
Ontario: 1.66 Odds at Bet365 (Americans: We recommend http://www.bovada.lv
Canada: 1.66 Odds at Bet365 (Americans: We recommend http://www.bovada.lv
USA: I didn't spot it anywhere but if anyone would have it it would be Bovada. I would NOT bet Canes in regulation at +105 or +100. +120 minimum.
Everyone Else: 1.66 Odds at Bet365 (Americans: We recommend http://www.bovada.lv
(Odds correct as of 2023/05/20 10:12:53 AM EST but are subject to change.)
Follow @BetNHL
BetNHL.ca » Tonights Tips »