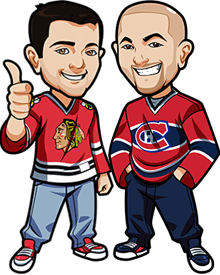 Written by Graeme & Scott on Friday, May 21st, 2021
First of all our thoughts are with John Tavares. That was some scary shit and we both hope he is okay. That was just horrible to watch made worse by all the replays they were showing of it.
Let's focus on the positives instead – an incredible evening of hockey!
Panthers vs Lightning was UNREAL. Just an absolutely immense game. It was so good seeing Florida get that much needed win to hopefully keep that series alive – we need a game 7 between them!
The Knights came back from 2-0 down to earn a big 5-2 victory. Penguins vs Islanders was a 9 goal thriller with 10 men being sent to the box at one point!
And of course……the Leafs lost. Classic Leafs. They were only able to muster one goal. How about that breakaway shorthanded goal? Can't get more Classic Leafs than that.
Good stuff.
We've got four games tonight. As a reminder – Panthers vs Lightning is an early one tomorrow at 12:30pm EST. All day hockey gotta love it!
Bruins vs Capitals Game 4 Betting Tips:
Scott What a series this has been.  All 3 games have needed overtime to be decided with the last game needing double overtime.
It is starting to get heated and when this series has Wilson and Marchand it was bound to happen.
I originally picked the Bruins to win the series and I still like that.  But I feel like the Capitals have a good shot to tie the series up in this game.
Capitals win incl OT
Canada: 2.49 Odds at SportsBetting.ag.
USA: +150 Odds at GT Bets.
Everyone Else: 2.49 Odds at SportsBetting.ag.
(Odds correct as of 2021/05/21 9:43:26 AM EST but are subject to change.)
Graeme: Based on the way this series has gone, betting the game to go to overtime is the most +EV bet. But you KNOW if I back that it won't happen. Just the way it works.
My thoughts are pretty much the same as last time. Capitals was the play I made and based on the way the game went, it was the correct play even if it didn't pan out.
I'm going to be a bit more conservative on this one. I still think Capitals is the right play mathematically – but I'm going to go with Capitals or Draw in regulation. Basically it's a win as long as Bruins don't win in regulation. Less money on the return but better than losing to some dumb ass goalie mistake.
Canada: 1.73 Odds at Sports Interaction (SIA) + free $20 bet.
USA: -140 Odds at Bovada.
Everyone Else: 1.71 Odds at Bet365.
(Odds correct as of 2021/05/21 9:43:26 AM EST but are subject to change.)
Predators vs Hurricanes Game 3 Betting Tips:
Scott: Nedeljkovic was amazing in game 2 stopping all 32 shots he faced and picked up the 3-0 shutout win.
The Predators really need to find a way to get pucks past him or they face going down 3-0 in the series. 
It's tough to make a pick here.  I like the Canes to win but I do feel like the Preds have a shot with the series now in Nashville so I'll avoid a tip for this game.
No Bet
Graeme: I said it last time – I was hoping for a good Canes win to get better odds on the Preds here.
I was hoping for about 2.40 or above but I'll take it. I think it's a marginal one but just slightly +EV. The Hurricanes offense has been a lot better in the playoffs at creating chances etc. If they can keep it up props to them etc. This is a do or die game for the Preds, I feel they do match up well enough with the Canes and I like taking a shot here. I was looking to bet them at least once and this seems the best spot for it. Preds win incl OT
Canada: 2.31 Odds at SportsBetting.ag
USA: +131 Odds at SportsBetting.ag
Everyone Else: 2.31 Odds at SportsBetting.ag
(Odds correct as of 2021/05/21 9:43:26 AM EST but are subject to change.)
Oilers vs Jets Game 2 Betting Tips:
Scott: Well the Jets did what most other teams couldn't do and that was to contain McDavid.  He was -2 and had only 2 shots.  It will be nearly impossible to do that for 2 games in a row.
Hellebuyck was strong for the Jets stopping 32 of 33 shots but I expect him to be tested more in this game.  McDavid and Draisaitl had a combined 6 shots and zero points.
The Oilers are far too good to take another loss at home and go down 2-0 before the series shifts to Winnipeg.
Oilers win in regulation
Graeme: I have a sore neck from shaking my head so much at this. But based on both teams strengths and the matchups between themselves – Oilers in Regulation is the only play I can make. I hate it I hate it I hate it. I hate the Oilers.
Canada: 2.05 Odds at Bet365.
USA: +100 Odds at SportsBetting.ag
Everyone Else: 2.05 Odds at Bet365.
(Odds correct as of 2021/05/21 9:43:26 AM EST but are subject to change.)
Blues vs Avalanche Game 3 Betting Tips:
Scott: Well Kadri threw a headshot towards the end of the game on Justin Faulk.  He is probably going to get suspended as it was a high hit and you can't do that.
I would like to think that this will give the Blues a much needed shove in the right direction.
But the Avalanche look amazing and MacKinnon is in full-on beast mode right now.  He had a hat trick and an assist in game 2 which gives him 5 goals and 7 points over the first 2 games of this first round matchup.
If the Blues are going to make a series of this then they need to win this game.   After that Kadri hit it should wake them up.
Blues win incl OT
Graeme: Avs looked absolutely unstoppable in Game 1. Game 2 was closer.
Honestly after that Game 1? I was ready to never tip the Blues at all in this series. They redeemed themselves a good bit in that last game, had a strong finish (minus the empty net goals) and I'd think come in rolling here.
Not sure the Blues have the ability to hang with the Avs to be honest – but if there is one game they do it, it's this one. With Kadri out, Blues at home, do or die and a very healthy price? I'm fine taking a gamble on Blues win incl OT.
Canada: 3.05 Odds at SportsBetting.ag
USA: +205 Odds at SportsBetting.ag
Everyone Else: 3.05 Odds at SportsBetting.ag
(Odds correct as of 2021/05/21 9:43:26 AM EST but are subject to change.)
Best America Sportsbooks for NHL
BetNHL.ca » Tonights Tips » May 21st, 2021 NHL Betting Tips