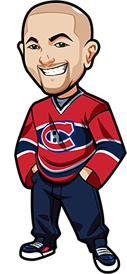 Written by Graeme on Saturday, May 21st, 2022
Follow @BetNHL
It was another great Battle of Alberta last night. The series is tied up 1-1 and is just a lot of fun.
McDavid is just freaking incredible. He has really stepped up and is showing that he is far and beyond the best player in the NHL today.
Speaking of greatness – how about Chris Lee? Just an incredible refereeing performance last night. The McDavid of NHL referees.
The Hurricanes went up 2-0 in their series in a tight one with the Rangers.
We have just the one game today as things start to get a bit weird with scheduling. As there are then three games tomorrow.
Let's get to it:
Avalanche vs Blues Bets:
Scott: The Blues Binnington was great and helped them tie the series at 1. They switched up their lines and played a more physical game and took away all open ice which made it hard for the Avs.
The Avs need to find a way to adjust to the Blues style of play and they will have to do it on the road.
I didn't expect this series to go this way. I thought the Avs would run away with it but that hasn't been the case. They won game 1 in overtime and lost game 2.
Now with games 3 & 4 in St. Louis the Blues can take a stranglehold. I need to see how game 3 goes before I make a bet.
No Bet
Graeme: So this one switches venues. The Blues are a decent sized dog at home.
In the regular season, the Blues were slightly better at home but not by much. That sounds negative but it's reallynot – they were great with a very positive record both at home and on the road. Colorado were a BEAST at home but their away record – while still very good – wasn't anywhere close to at home.
Let's look at the Blues performances in the playoffs. Advanced metrics wise – home and away was pretty darn similar in their series with the Wild. Nothing too out of the ordinary.
Advanced metrics wise, Blues were pretty poor at home offensively in the regular season despite the amount of goals they scored. They don't get as many chances but they take them when they get them. Clinical finishing.
Basically what I'm doing here is trying to see if they have any real big advantage at home compared to on the road. To justify the bet beyond "THE ODDS ARE GUD!!!!".
While there isn't anything standout with the Blues, there is a drop for the Avs. At home they are about a Top 5 team while on the road it's more top 10. Based on that, I like the Blues more here after looking at those metrics.
And really – it says something that the Blues were able to get a W in this series in Colorado. Very impressive.
Avs of course on the road in Nashville got the goals. They certainly weren't as tight a team though and neither performance on the advanced metric scale was overall as good as the first two at home.
I think there's enough here to justify backing the Blues not just in Game 3 – but in Game 4 if the odds are the same. Based on what I am seeing, it'd be a surprise if they don't get at least one win at home.
Avs bounce back is fairly solid although not 100% reliable. Certainly a factor though. A mix on the bounce back of good and bad teams.
Now the question is – how about overtime? Well in the regular season, Blues did not have the best record. That's a concern. Avs weren't anything amazing either though.
If you want to take a risk, backing the Blues in regulation isn't the worst idea. Or the ol draw no bet. But then I'd wager their chances at winning OT maybe 45% and the implied probability is about 40% so there's still value there.
Yeah let's go with Blues incl OT. Bar any injuries or drastic odds changes, I'll likely blindly back that again in Game 4.
Ontario: 2.46 Odds at Sports Interaction (SIA) - Non-Ontario bet $10 get $200
Rest of Canada: 2.49 Odds at BetOnline.
USA: +150 Odds at GT Bets.
Everyone Else:2.49 Odds at BetOnline.
(Odds correct as of 2022/05/21 8:31:21 AM EST but are subject to change.)
Follow @BetNHL
BetNHL.ca » Tonights Tips »