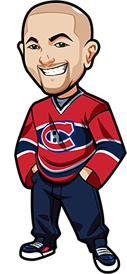 Written by Graeme on Sunday, May 21st, 2023
Follow @BetNHL
Well I'm glad I took that "draw no bet" caveat, because it came in quite handy last night!
The Hurricanes were pretty darn dominant over the Panthers but Bobrovsky put in a great performance. The Canes could not get past him after that early goal (well, with a legal goal), and Florida were able to pull it off in OT.
The Canes also are starting to struggle to finish, and it'll be worth looking at the over/under on shots in the next game. Have to wonder if they start to get desperate there.
We have hockey every single day this week which is nicw. An early one today, with Stars at Knights Game 2 taking place at 3pm EST. As Beard Meats Food would incoherently say, let's get it!
Knights vs Stars Game 2 Betting Tips:
Scott: Well game 1 of the Western Conference Finals needed overtime but only 1:35 worth.
Robertson opened the scoring, which snapped his goaless streak at 8 games. Karlsson scored twice for the Knights and Benn tied it at 3 with less than 2 minutes remaining. Howden won it for the Knights.
This was the 3rd time in 4 meetings between these teams that the game needed extra time to be completed.
This was an even game as the score will show but even the shots were close with the Knights outshooting the Stars 37-36.
The Stars have lost the 1st game in overtime in all 3 rounds of these playoffs and in the 1st two rounds they won game 2.
With how close game 1 was and with the Stars in familiar grounds this postseason I like their chances here.
Stars Win incl OT
Ontario: 2.05 Odds at 888 Sports.
Canada: 2.09 Odds at BetOnline.
USA: +109 Odds at BetOnline.
Everyone Else: 2.09 Odds at BetOnline.
(Odds correct as of 2023/05/21 6:52:05 AM EST but are subject to change.)
Graeme: I wasn't super impressed with the Stars in game 1. Thought their offense was a bit meh, and looking at the xG that seems to be the case. Money puck has them at 2.22 and fairly flat. A lot of low scoring chance attempts.
I'm not a fan of the odds here at all. Stars at about +100 and yeah I could see this being coinflip odds.
What Dalls have going for them in these playoffs, is that they have never lost two in a row. They've bounced back from every loss, including their two game 1 losses.
So is that enough to back them today?
I was tempted to dive into home vs road metrics, but I'm going to go a different route. I wasn't a big fan of that Stars offense and the chances they took, but they were still able to get 3 on the scoreboard.
The bookies are being nice and generous with the over 5.5 today. That feels fine to me. Both teams for the playoffs have GF/60 above that, and GA/60 right at that point. xGF/60 for both teams is above 3 as well as is SCGF/60.
If a goalie steps up so be it, but I like Over 5.5 Goals in this game.
Ontario: 1.90 Odds at Bet365 (Americans: We recommend http://www.bovada.lv
Canada: 1.93 Odds at BetOnline.
USA: -107 Odds at BetOnline.
Everyone Else: 1.93 Odds at BetOnline.
(Odds correct as of 2023/05/21 6:52:05 AM EST but are subject to change.)
Follow @BetNHL
BetNHL.ca » Tonights Tips »