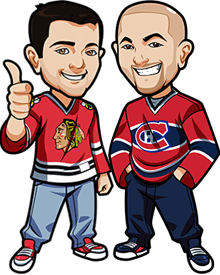 Written by Graeme & Scott on Wednesday, May 22nd, 2013
Follow @BetNHL
Sorry for the delay with the tips for today. We got nailed with a nasty storm last night and it has caused the internet to stop working for a majority of the day.
Well we went 1-2 with the betting last night. The Bruins won and now have a commanding 3-0 series lead. The Rangers jumped out to a 1-0 lead only to have the Bruins score 2 unanswered goals. The Ranger certainly have their work cut out for them but when you have Henrik Lundqvist as your goalie anything is possible. The Sharks scored the first 2 goals and that was enough to hold off the Los Angeles Kings winning 2-1 and have now tied up the series at 2 games apiece. These Sharks are proving to be a contender after years of having strong regular seasons only to fall apart in the playoffs. After sweeping the Canucks in the first round, they have now made this a best of 3 series
With only one game on tonight we have limited options available to bet. This was a marathon last game with the Sens coming out on top in the 2nd overtime period. It was nice to see Jason Spezza back and the Penguins sure didn't give him any shifts off as he was on the receiving end of a few big hits.
I expect tonights game to be just as exciting as the last game with the Sens again at home and with the momentum gained from winning last game this has the makings to be a fantastic game.
Here are the Betting Tips for tonights Penguins vs Senators game:
Over 5.5 Goals
This game should have plenty of goals scored. The Sens can't afford to head back to Pittsburgh down 3-1 while the Penguins really don't want to allow this Pesky Senators squad to tie up the series. I expect this game to end in the 7-8 goal range.
Again I really hope that in the end the Sens not only win this game but move on to the Eastern Conference finals. What a great story that would be to not only have great success on the year and in the playoffs but to do it when your 3 best players all missed a significant amount of time. Erik Karlsson, Jason Spezza and starting goalie Craig Anderson all missed time due to injury yet here the Sens are.
If Paul MacLean doesn't win the Jack Adams award, given to the coach of the year, then there is something wrong.
The Odds for the Over 5.5 goals are 2.10 at Bet365 (Americans: We recommend http://www.bovada.lv
Goal Before 9:30 of The First Period
We must sound like a broken record with this as we always seem to bet this betting prop but more often than not this pulls through for us. Both teams are going to try to ensure that the game doesn't go to double overtime like it did last game. So by both teams putting lots of goals up on the board we expect them to happen quickly and often
Bet the time of the first goal will happen before 9:30 of the first at Bet365 (Americans: We recommend http://www.bovada.lv for 1.71 betting odds
Follow @BetNHL
BetNHL.ca » Tonights Tips »