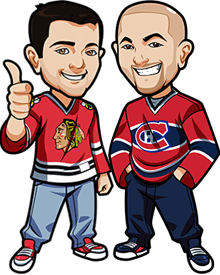 Written by Graeme & Scott on Friday, May 22nd, 2015
Follow @BetNHL
We called it wrong last night, as the Ducks picked up a huge win on the road in Chicago. It was a very even game, and just 1 goal separated the teams, and it was an extremely impressive victory for the Ducks. The fact that their penalty kill managed to kill off 5 power plays by the Blackhawks? Incredibly impressive.
The 4th game takes place on Saturday, and is a rare evening game. Most of the playoff games have been in the afternoon, so it's great to finally get a Saturday evening game.
Before we tip todays Lightning vs Rangers game, it's time for our weekly chat with Sports Interaction. For those new – we sit down and get an online sportsbooks perspective on things all hockey betting related.
Always valuable to get those insights – and if you're able to, sign up at Sports Interaction and get free $$$!
BetNHL.ca: The Blackhawks and Ducks recently went to Triple overtime. That's a scenario that seems to happen a few times each year during the playoffs. How do you feel that affects the next game?
Sports Interaction: One thing to take into account is how physical the series is too – and this is one series where it's physical and the lasting effects will linger longer than just one game. I mean look at the Hawks – Keith played 50 minutes and each of the top 4 D were out there for over 46 minutes. Perry and Getzlaf were both out there for over 36 minutes. It generally opens up the next 2 games with some sloppy play.
BetNHL.ca: What are your thoughts on the Western Conference finals so far?
Sports Interaction: We're really surprised it took that long for the Ducks to get a PPG. They'd been scoring in over 25% of the power plays during the playoffs. They need to start producing from the power play more often against the Blackhawks if they want to take down this series. Only 3 of their players hit over 40 during the regular season so they really need the PP to become effective.
BetNHL.ca: How about the East? Tampa have put in 12 goals in 2 games. Can the Rangers handle the Bolts?
Sports Interaction: Tampa have did one of the most effective things – made the opposition play out of their comfort zone. It's resulting in poor performances from Lundqvist, and sloppy turnovers as the Rangers can't seem to handle their speed. Rangers seriously need to win the game tonight. You have to expect Tyler Johnson to take down the Conn Smyth if Tampa lift the cup. We're seeing a ton of action on him in the players props and it's coming up well for them.
Lightning vs Rangers Betting Tips:
Scott: Well I couldn't have been more wrong in the last game when I called under 5 when the Lightning won 6-5 in OT. For tonight's game I have to go with the Rangers. They very rarely get scored on 6 times in a game and it's happened twice in a row. They need this win to avoid going down 3-1 and would make this a best of three series. Lundqvist needs to be better and he will. The Rangers also need to contain that triplet line. They continue to do damage. Rangers Win for 2.10
Graeme: This is always going to be a tricky series to predict. We all know Lundqvist; he can let in those 12 goals, then have a shutout.
I think tipping the Rangers is completely fine. However I just don't see the value at 2.10 based on the last couple of games. Rangers look like they can't handle Tampa at the moment, and they have to be scared to get physical considering the Lightning power play. Considering you can get 1.80 at Bovada for Americans and http://www.Bet365.com for everyone else. on the Bolts – that's the play to make.
Follow @BetNHL
BetNHL.ca » Tonights Tips »